Venus Yantra
Venus Yantra - Be the Master of All Material Comforts!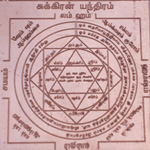 When Venus is malefic in your Birth Chart, the Venus yantra will work in your favor. This sacred energy device attracts the best things of life towards you. The Yantra spreads its positive energy around you and brings about success in all the efforts of your life. People involved in the artistic world, media, films, theater and arts or music world derive the most benefit from it. Venus Yantra is a very powerful yantra pattern of energy that revamps your life style. It helps you attract the essential riches of life, the most yearned love, peace and honorable respect. Venus rules all the materialistic pleasures of the world; when he energizes you with his positive energy, you will be relieved from financial crunches, relationship problems and what not?
This yantra wipes out the negative influences of planet Venus and renders good results. Complications indicated by Venus are Stones in bladder, eye afflictions, diseases of ovaries, weakness of sexual organs, exudation of semen, menstrual troubles and abortions etc. This helps in the improvement of a love relationship, married life, cooperation from opposite sex, and for luxuries this yantra is the most suited one. The persons connected with the artistic world, media, films, theater or music world derive the most benefit from it.
Venus Yantra adds glory to the lives of:
Creative people
Those who crave for a good love life
People who want to attract money and wealth
People who want to stay in a white collared job throughout their lives
Partners who have problems in their love life
People who wish to grow in material comforts
People who seek to dress better and improve beauty in all areas of their life
People who desire happiness regardless of circumstances
People who wish to deepen their devotion to God
People who wish to increase their connection to any form of artistic expression or enjoyment of the arts
People who wish to increase their skills at negotiation and diplomacy
People who want to be more conscious in making decisions about their time, money and energy and get better value for them
You can keep this yantra at your office or altar place and do the pooja. . You have to chant this mantra for 21/108 times and with the energy of chanting you would be blessed with the positive energy of Venus Yantra.
Venus Mantra is as follows
Om dram dreem droum sah shukraya namah
How to use the Yantra in Altar?
Keep the Yantra on a Altar facing North or East, placing the center of the Yantra at the level of your eyes.
Wash the Yantra with rose water or milk and Wipe the yantra with clean cloth.
There will be change in color in excess of a period of time but energy of the yantra will not dissolve.
First apply sandalwood and then Kumkum on the edge of the yantra and in middle.
Do not forget to consecrate the fruits of this practice to God (karma yoga).
Then light a candle or ghee lamp and incense stick in front of the yantra in altar and do pooja.
Chant the mantra as mentioned above in front of yantra.
Thus, Yantras not only avert disasters but also help in bringing good things to life.
Yantras add value to one's life and do have mystical powers to heal certain issues which are not understood by most of the people.