Vahan Durghatna Yantra
Vahan Durghatna Yantra - Secure from abstacles and accidents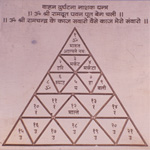 'Vaahan' is vehicle and 'Durghatna' is accident. As the name denotes, this Yantra ensures protection from accidents, injury, or other mis-haps as per ancient vedic texts, especially those related to vehicles. It acts as a shield to protect and save the worshipper from any such mis-fortunes, and ensures his own, his family's and his belonging's safety during journeys as per ancient vedic texts.
The Vahan Durghtna Yantra is the Yantra for safety in vehicles, in road or to stay away from road accidents. It keeps the worshipper safe in the arena outside home and do not let anything harm the person in any way.
The Vahandurghtna Yantra is highly significant for those having hurdles in driving and with vehicles in their horoscope chart as per the words of astrology. People who have been told for fear in roads as predicted from their birth chart should adopt this Yantra and worship it with all the rituals as it would surely reduce their fear of life and would defend them from many obstacles in road or during driving.
You can keep this yantra at your office or altar place and do the pooja. . You have to chant this mantra for 21/108 times and with the energy of chanting you would be blessed with the positive energy of vayapar Durghtna Yantra.
Vayapar Durghtna Mantra is as follows
Om Aum Hraam Hreem Shree Vayu Putreye Namah
How to use the Yantra in Altar?
Keep the Yantra on a Altar facing North or East, placing the center of the Yantra at the level of your eyes.
Wash the Yantra with rose water or milk and Wipe the yantra with clean cloth.
There will be change in color in excess of a period of time but energy of the yantra will not dissolve.
First apply sandalwood and then Kumkum on the edge of the yantra and in middle.
Do not forget to consecrate the fruits of this practice to God (karma yoga).
Then light a candle or ghee lamp and incense stick in front of the yantra in altar and do pooja.
Chant the mantra as mentioned above in front of yantra.
Thus, Yantras not only avert disasters but also help in bringing good things to life.
Yantras add value to one's life and do have mystical powers to heal certain issues which are not understood by most of the people.