Vaastu Yantra
Vaastu Yantra - Provides shelter to remain consentent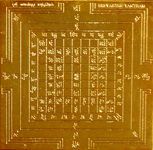 Vaastu means to build environment and a surrounding and Shastra means a perfect system or a by-laws. The word Vaastu came from the Vastva, means anything that provides shelter. Vaastu Shastra tells the methods for building any kind of shelter that have congenital environment due to the combined positive effects of the five elements called Panch Mahabhuta. Vaastu Shastra encompasses the techniques to decide directions, placement and positioning of various aspects related to building. If any shelter, be it home, commercial establishment or industrial premise, is built on the guidelines of Vaastu Shastra, if certainly bless the owner with health, wealth, prosperity and happiness.
Sri Vastu dosh nivaran yantra is meant to remove ill effects of Vaastu from residence/place of work. Vastu dosh nivaran yantra combats all the bad influences and ill-effects of Vaastu faults existing in one's home or office. Mostly, there are certain inherent faults about direction, location, situation of a building, situation of rooms etc, which may not be easily curable or rectifiable. Vastu dosh nivaran yantra not only helps to cure all inherent Vastu faults and remove their ill-effects, but also generates the positive & benefic effects of Vaastu. Vastu dosh nivaran yantra should be either be buried under the ground before or after construction, with due rituals, or installed at the 'Pooja' room, and worshipped. You can keep this yantra in a business or altar place facing North West/South East/North East/North/East direction and do the pooja. You have to chant this mantra for 108 times and with the energy of chanting you would be blessed with success.
Removes Vaastu ill-effects from place of work/residence.
Rectifies the faults of a building, site, home, office or structure due to wrong construction or creation.
Removes negative energies or ill effects resulting from inauspicious location or directions of rooms.
Removes ill-effects of a business premises and attracts more business
Vaastu Mantra is as follows
Vaastudev Namastatu Bhushanyaanirat Prabho !
Mam Grahe Dhan Dhaanyaadi Samraddh Kuru Sarvada !!
How to use the Yantra in Altar?
Keep the Yantra on a Altar facing North or East, placing the center of the Yantra at the level of your eyes.
Wash the Yantra with rose, water or milk. water or milk. Wipe the yantra with clean cloth.
There will be change in color in excess of a period of time but energy of the yantra will not dissolve.
First apply sandalwood and then Kumkum on the edge of the yantra and also in middle. Do not forget to consecrate the fruits of this practice to God (karma yoga).
Then light a candle or ghee lamp and incense stick in front of the yantra in altar and do pooja. Chant the mantra as mentioned above in front of yantra.
Thus, Yantras not only avert disasters but also help in bringing good things to life. Yantras add value to one's life and do have mystical powers to heal certain issues which are not understood by most of the people.