Swayamvara Parvathi Yantra
Swayamvara Parvathi Yantra - Devine bells for Marriage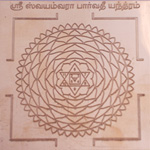 Swayamvara Parvathi is the Most Powerful, trusted, widely used Marriage Mantra for early marriage, fertility (to conceive child) and happiness. She is the Goddess of Love and devotion. There are several times that Parvati experience trials in her married life because of Lord Shiva, and as a result they got separated. Goddess Parvati was reincarnate by the divine mother then she got married to Lord Shiva.
Lord Shiva gave the Swayamvara Parvati Mantra to Goddess Parvati to be guided. Through reciting the Swayamvara Parvati Homam, it will eradicate the factors that delays marriage. Usually, Swayamvara Parvati Homam to be performed depends on the type of problems and the birth chart of the individual.
Goddess Parvati is goddess Shakti, the female energy. Whole cosmos is build will male and female energy like we call Shiva and Shakti, Buddhist call Yin and Yang. Shiva is passive without Shakti. Goddess Parvati or Shakti is the divine mother of Universe. Goddess Parvati is the embodiment of virtue, fertility, marital felicity, asceticism and power.This Yantra can also help you support marriage plans for a family member,Solving the delay in marriage, pregnancy, misunderstandings among couples, to attain a spouse of choice and as per your hearts wish, to be able to choose your spouse well, all other negative elements vanish and attract your soul mate towards you.
You can keep this yantra in altar and do the pooja. you have to chant this mantra for 108 times and with the energy of chanting you will be blessed with married life.
Swayamvara Parvathi Mantra is as follows
"Om Hreem Yoginim Yogini Yogeswari Yoga Bhayankari Sakala Sthavara
Jangamasya Mukha Hridayam Mama Vasam akarsha Akarshaya Namaha "
How to use the Yantra in Altar?
Keep the Yantra on a Altar facing North or East, placing the center of the Yantra at the level of your eyes.
Wash the Yantra with rose, water or milk. water or milk. Wipe the yantra with clean cloth.
There will be change in color in excess of a period of time but energy of the yantra will not dissolve.
First apply sandalwood and then Kumkum on the edge of the yantra and also in middle. Do not forget to consecrate the fruits of this practice to God (karma yoga).
Then light a candle or ghee lamp and incense stick in front of the yantra in altar and do pooja. Chant the mantra as mentioned above in front of yantra.
Thus, Yantras not only avert disasters but also help in bringing good things to life. Yantras add value to one's life and do have mystical powers to heal certain issues which are not understood by most of the people.