Swarna Akarshana Bhairava
Swarna Akarshana Bhairava - Powerhouse of Money and Gold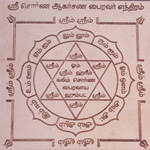 Swarna Akarshana Bhairava is the God who can bless you with gold and other material wealth. His Yantra emits the divine energy that would bless you with money, gold and other riches. It is the best divine remedy to heal your financial problems in life. The word Swarna means Gold; upon worshipping Swarna Akarshana Bhairava you will be blessed with heaps of gold and money. Gold is personified as Goddess Lakshmi; hence, being blessed with gold symbolizes the entrance of the Goddess in your living space.Acquiring and accumulating wealth is a challenging task to you; when you are empowered with the necessary skill sets and the divine blessing, you will assault all the impediments that stand as blockages to you. Swarna Akarshana Bhairava Yantra invite the Goddess of wealth into your home or office.
People who wish to accumulate and money and gold
People who struggle to get relieved from financial problems
People who desire to succeed in their investment plans
People who wish to acquire properties
People who know time is money and wish their time to be more productive
People who seek to create surplus so as to be able to help others
You can keep this yantra either in your house, office or altar place and do the pooja. You have to chant this mantra for 21/108 times and with the energy of chanting you would be blessed with the positive energy of Swarna Akarshana Bhairava Yantra.
Swarna Akarshana Bhairava Mantra is as follows
Om Shreem Swarna Akarshana Bhairavaya Namaha
How to use the Yantra in Altar?
Keep the Yantra on a Altar facing North or East, placing the center of the Yantra at the level of your eyes.
Wash the Yantra with rose, water or milk. water or milk. Wipe the yantra with clean cloth.
There will be change in color in excess of a period of time but energy of the yantra will not dissolve.
First apply sandalwood and then Kumkum on the edge of the yantra and also in middle. Do not forget to consecrate the fruits of this practice to God (karma yoga).
Then light a candle or ghee lamp and incense stick in front of the yantra in altar and do pooja. Chant the mantra as mentioned above in front of yantra.
Thus, Yantras not only avert disasters but also help in bringing good things to life. Yantras add value to one's life and do have mystical powers to heal certain issues which are not understood by most of the people.