Subramanya Yantra
Subramanya Yantra - Fame, prosperity and wealth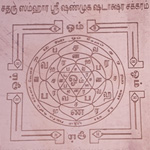 Kartikeya(Lord Muruga) is also known as Subramaniam, Skanda, Guha, Shadannana or Shanmukha(because he has six faces). He represents a person of perfection. He is the war God, the Hindu equivalent of Mars and Aries. He was created by all the Gods to lead the heavenly hosts and destroy the demons. He is the most masculine and fierce of all the Gods. Lord Subramaniam bestows all spiritual powers, particularly the power of knowledge and restore you with power to achieve your goals and desires.
Are you lagging behind in confidence and wisdom?
Possess the Subramanya Yantra to boost your confidence level and to power up your intelligence. Subramanya(Lord Muruga) is an embodiment of confidence and knowledge; he stimulates your confidence level and gifts you with success in all your endeavors. His Yantra comes handy to you for empowering and enhancing your confidence and wisdom. It attract fame, prosperity and wealth into your life.
People who are lacking confidence
Business holders who are facing continuous losses
People who yearn to become knowledgeable
People who wish to achieve success in all their endeavors
People who desire to face up to paying off their debts
People who seek to present themselves with more assurance and leadership
People who know they need more energy to tackle their issues
People who want a winner's attitude and a warrior's resolve
You can keep this yantra in a business or altar place and do the pooja. You have to chant this mantra for 108 times and with the energy of chanting you would be blessed with success in all your endeavors
Subramanya Mantra is as follows
"Om saravana bhavaya namah"
(or)
"Om Thatpurushaya Vidhmahe
Maha Senaya Dhimahi
Thanno Skanda Prachodhayath"
How to use the Yantra in Altar?
Keep the Yantra on a Altar facing North or East, placing the center of the Yantra at the level of your eyes.
Wash the Yantra with rose, water or milk. water or milk. Wipe the yantra with clean cloth.
There will be change in color in excess of a period of time but energy of the yantra will not dissolve.
First apply sandalwood and then Kumkum on the edge of the yantra and also in middle. Do not forget to consecrate the fruits of this practice to God (karma yoga).
Then light a candle or ghee lamp and incense stick in front of the yantra in altar and do pooja. Chant the mantra as mentioned above in front of yantra.
Thus, Yantras not only avert disasters but also help in bringing good things to life. Yantras add value to one's life and do have mystical powers to heal certain issues which are not understood by most of the people.