Sthri Vasiya Yantra
Sthri Vasiya Yantra - Life Solution (or) New Relationship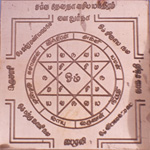 Unity and oneness is a must between man and woman so as to preserve a common thinking they aspire. where there is a lapse on this, there needs a means to clear or sort out the wanting. This yantra known as "Sthri Vasiya Yantra" will give vigor and needed support to achieve the desired effects.
People who seek the perfect soul mate
Women who want to attract their kind of guy
People who are looking forward for a good relationship with their spouse
Women who wish to have a cordial relationship with their partner
Women who want to know on how the two of you relate to each other and to the other people, including your respective levels of adaptability and sociability
Those who yearn to know how the two of you get along emotionally and sexually, including your respective levels of sensitivity, compassion, communicativeness and outward affection
You can keep this yantra in altar or in pocket and do the pooja. You have to chant this mantra for 108 times and with the energy of chanting you would be blessed with good pair.
Sthri Vasiya Yantra is as follows
Om Maha Yaksyai Mum (Name of person/women) vasiya vasiya Kuru Kuru swaha
How to use the Yantra in Altar?
Keep the Yantra on a Altar facing North or East, placing the center of the Yantra at the level of your eyes.
Wash the Yantra with rose, water or milk. water or milk. Wipe the yantra with clean cloth.
There will be change in color in excess of a period of time but energy of the yantra will not dissolve.
First apply sandalwood and then Kumkum on the edge of the yantra and also in middle. Do not forget to consecrate the fruits of this practice to God (karma yoga).
Then light a candle or ghee lamp and incense stick in front of the yantra in altar and do pooja. Chant the mantra as mentioned above in front of yantra.
Thus, Yantras not only avert disasters but also help in bringing good things to life. Yantras add value to one's life and do have mystical powers to heal certain issues which are not understood by most of the people.