Saturn Yantra
Saturn Yantra - Revolutionize your Life with the Roadmap to Success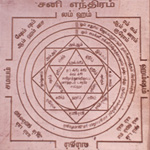 You might be suffering from financial difficulties, yet money for basic expenses such as rent, food, and utilities, always manifest. You might have been feeling ill with no clear diagnosis. Then suddenly you meet someone who knows a doctor or healer with the answers. When the person is ready to heal, the doctor will be there. Invoke your spiritual doctor, the tool of the Saturn Yantra is exclusively designed for you. Each day your life encounters meaningful and meaningless coincidences that you have attracted. It is why you are here! It is how our reality works. Here are examples of synchronicity appearing in people's lives.
Saturn Yantra is used to propitiate an afflicted Saturn and achieve success through complete blessings of Lord Sani. When Saturn is malefic in a horoscope during the transit or causes of Sade Sati, the use of Saturn/ Sani yantra will prove to be very advantageous! It can bring success in worldly affairs, success in business and help you to reach lofty heights. Saturn is the son of Sun god and Chaya (Sanvarna). He is considered as a cruel planet. The cruelty, which he possesses in his sight, is due to the curse he received from his wife. According to the astrology if the Saturn pierces and passes through the constellation of Rohini then it is considered to be very inauspicious and causes draughts for twelve years making even the survival of the living beings impossible.
Shani Yantra/ Saturn Yantra is used to propitiate an afflicted Shani/Saturn and achieve Rajayoga through complete blessings of Shani. When Saturn is malefic in a horoscope, in transit or causes Sadesati, use of Shani yantra is very beneficial. Shani yantra is useful, when one feels depressed. It indicates success in worldly affairs, success in business and the man touches the dizzy heights.
Saturn Yantra adds glory to the lives of:
People who want to fly high in their career
Business holders who yearn to flourish in their trade
Students who crave to score well in examinations
Couple who wish for a trouble free and happy life span
People who wish for a successful journey through their lives
Those who aim for a trouble free start in their lives
People who desire relief from depression and despair and mental confusion
People who seek to remedy an afflicted Saturn in their birth chart
You can keep this yantra at your office or altar place and do the pooja. You have to chant this mantra for 21/108 times and with the energy of chanting you would be blessed with the positive energy of Saturn Yantra.
Saturn Mantra is as follows
Om pram preem proum sah shanaischaraya namah
How to use the Yantra in Altar?
Keep the Yantra on a Altar facing North or East, placing the center of the Yantra at the level of your eyes.
Wash the Yantra with rose water or milk and Wipe the yantra with clean cloth.
There will be change in color in excess of a period of time but energy of the yantra will not dissolve.
First apply sandalwood and then Kumkum on the edge of the yantra and in middle.
Do not forget to consecrate the fruits of this practice to God (karma yoga).
Then light a candle or ghee lamp and incense stick in front of the yantra in altar and do pooja.
Chant the mantra as mentioned above in front of yantra.
Thus, Yantras not only avert disasters but also help in bringing good things to life.
Yantras add value to one's life and do have mystical powers to heal certain issues which are not understood by most of the people.