Satru Samhara Yantra
Satru Samhara Yantra - Over enemies, evil forces and Kuja, Mangal dosha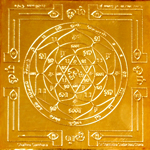 It protects and prevents one from evil eyes, curses of gods, planets and ancestors. It further enhances family relationship, removes dullness, fear, mental block, frees one from debts, helps to cure fatal diseases, bestows progeny; give good health and six Siddhis.
A person or family who constantly face Enemies(bad relatives, fake police cases in court, etc)
Business Competitors
Possessed with Black Magic, Evil Eyes and Spirits(Soonyam)
Ancestral Curses
Suffering with Diseases
To protect from Negative Forces
Politician
You can keep this yantra at your office or altar place and do the pooja. . You have to chant this mantra for 21/108 times and with the energy of chanting you would be blessed with the positive energy of Satru Samhara Yantra.
Satru Samhara Mantra is as follows
Om Kartikeyaya Vidmahe
Shakti Hastaya Dhimahi
Tanna Skanda Prachodayat
How to use the Yantra in Altar?
Keep the Yantra on a Altar facing North or East, placing the center of the Yantra at the level of your eyes.
Wash the Yantra with rose water or milk and Wipe the yantra with clean cloth.
There will be change in color in excess of a period of time but energy of the yantra will not dissolve.
First apply sandalwood and then Kumkum on the edge of the yantra and in middle.
Do not forget to consecrate the fruits of this practice to God (karma yoga).
Then light a candle or ghee lamp and incense stick in front of the yantra in altar and do pooja.
Chant the mantra as mentioned above in front of yantra.
Thus, Yantras not only avert disasters but also help in bringing good things to life.
Yantras add value to one's life and do have mystical powers to heal certain issues which are not understood by most of the people.