Saraswati Yantra
Saraswati Yantra - Knowledge, Education & Creativity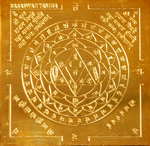 Goddess Saraswati yantra is used for Knowledge, Education & Creativity. Goddess Saraswati bestows intellect, intelligence and is the patron goddess of learning and music. This occult Yantra sharpens the intellect, improves grasping power, increases memory & concentration. It is a must for those who are dull-witted or have suffered breaks in their education, and for those who are suffering from the bad effects of a malefic Jupiter. This Yantra ensures success in studies and high achievement in competitive examinations. It is a known remedy for mental disorders, weak intellectual growth and lunacy. Saraswati Yantra also develops & increases the knowledge, understanding & appreciation of creative arts, especially fine art & music. In addition, Saraswati Yantra has the power to bless married women with a happy life & conjugal bliss, and unmarried ones with an ideal mate & a satisfying married life. By constant worship of this Yantra one becomes learned, famous and praise from all. Knowledge is power. Everybody needs enhance their knowledge through various ways like academic pursuits, private study of religious/ spiritual treatises etc. if propitiated with ardent devotion can definitely enhance the knowledge of the devotee. By worshipping Saraswati Yantra students will perform well in the examinations. Concentration and memory power will increase. Only good thoughts will spring up form their minds. For acquiring spiritual wisdom also, the grace of Goddess Saraswati very essential.
On the other part, Saraswati Yantra will show the right direction to the person and would lead him or her towards taking all right steps. Students fearing examination should worship Saraswati Yantra.You can keep this yantra in a study room or at altar place and do the pooja you have to chant this mantra for 108 times and with the energy of chanting you would be blessed with positive energy releases strengthening your mental health.
Saraswathi Mantra is as follows
"Om Shreem Hreem Saraswatyai Namaha"
How to use the Yantra in Altar?
Keep the Yantra on a Altar facing North or East, placing the center of the Yantra at the level of your eyes.
Wash the Yantra with rose, water or milk. water or milk. Wipe the yantra with clean cloth.
There will be change in color in excess of a period of time but energy of the yantra will not dissolve.
First apply sandalwood and then Kumkum on the edge of the yantra and also in middle. Do not forget to consecrate the fruits of this practice to God (karma yoga).
Then light a candle or ghee lamp and incense stick in front of the yantra in altar and do pooja. Chant the mantra as mentioned above in front of yantra.
Thus, Yantras not only avert disasters but also help in bringing good things to life. Yantras add value to one's life and do have mystical powers to heal certain issues which are not understood by most of the people.