Santhana Gopala Yantra
Santhana Gopala Yantra - For progency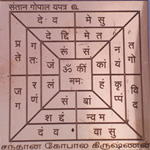 This Yantra is very useful for getting a child and a safe progeny. This Yantra also prevents miscarriage during pregnancy. The Yantra blessed the couple with a beautiful and intelligent child and increase love between them. This is a very useful yantra for the childless couples. Some persons are devoid of children and try hard to have an issue. For this purpose Santan Gopal Yantra is miraculous. All your prayers for progeny would be answered through this Energized Yantra. This yantra gives a desired child who is meritorious and long living.
The energy lines engraved on the Yantra will nullify the obstacles that stand in your way of begetting a child; it will alleviate your mental peace and bless you with progeny. The radiations from the Yantra can nourish the womb of the expectant mother protecting her and the child from all kinds of mishaps. Lord Santhana Gopala can not only gift you with children, but he can also bless them with good health and immense knowledge.
You can keep this yantra at your office or altar place and do the pooja. You have to chant this mantra for 21/108 times and with the energy of chanting you would be blessed with the positive energy of Santhana Gopala Yantra.
Santhana Gopala Mantra is as follows
Om Devaki Sudha Govinda
Vasudeva Jagath Pathe
Dehimey Thanayam
Krishna Thwamaham
Saranam
Kadhahaa Deva Deva
Jagannatha
Gothra Vridhi Karap Prabho
Dehimey Thanayam Sheegram
Ayushmandham Yashashreenam
How to use the Yantra in Altar?
Keep the Yantra on a Altar facing North or East, placing the center of the Yantra at the level of your eyes.
Wash the Yantra with rose, water or milk. water or milk. Wipe the yantra with clean cloth.
There will be change in color in excess of a period of time but energy of the yantra will not dissolve.
First apply sandalwood and then Kumkum on the edge of the yantra and also in middle. Do not forget to consecrate the fruits of this practice to God (karma yoga).
Then light a candle or ghee lamp and incense stick in front of the yantra in altar and do pooja. Chant the mantra as mentioned above in front of yantra.
Thus, Yantras not only avert disasters but also help in bringing good things to life. Yantras add value to one's life and do have mystical powers to heal certain issues which are not understood by most of the people.