Pratyangira Yantra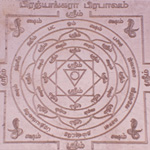 Goddess Pratyangira Devi is the protector against evil forces; she will bless you with pure thoughts and a hassle free life. When negative forces invade your life, Pratyangira Devi will come to your rescue. Your sincere prayers to her Yantra will mark the dawn of positivity and happiness in your life. The waves of energy from the Yantra will shield you against black magic, evil eye casting and all other negative forces that hamper your peace. Come out of the ill spell and breathe the fresh air of positivity! Keep your doors wide open to invite good spirits inside - Pratyangira Devi Yantra unlocks your door to welcome happiness! It curbs the effects of the hostile elements that act upon your life. It will encircle you with the power of Goddess Pratyangira Devi to negate all the evil forces influencing your life. This is a powerful Yantra for Protection. Maha Pratyangira Devi is a powerful Devi who is said to have destroyed Sarabheswara's arrogance. Sarabheswara is a ugra avatar of Siva. She is also known as Narasimhika. She is enveloped as bliss in the letter Ksham. Sri Pratyangira Devi is also associated with Sri Cakra. She is considered to be a powerful repellent of the influences generated by witch-craft. In Sri Cakra worship, she protects the devotees against all odds and guides them along the right path.
People who suffer from evil eye casting, black magic and negative forces
People who struggle with negativity in their lives
Those who face hitches in all their endeavors
People who yearn for material comforts
People who are challenged with nightmares and depression
You can keep this yantra at your office or altar place and do the pooja. You have to chant this mantra for 21/108 times and with the energy of chanting you would be blessed with the positive energy of Pratyangira Yantra.
Pratyangira Mantra is as follows
Aparajithaayai Vidhmahe,
Chathru Nisuulinyai Cha Dheemahi
Tanno Pratyangira Prachodhayat
How to use the Yantra in Altar?
Keep the Yantra on a Altar facing North or East, placing the center of the Yantra at the level of your eyes.
Wash the Yantra with rose water or milk and Wipe the yantra with clean cloth.
There will be change in color in excess of a period of time but energy of the yantra will not dissolve.
First apply sandalwood and then Kumkum on the edge of the yantra and in middle.
Do not forget to consecrate the fruits of this practice to God (karma yoga).
Then light a candle or ghee lamp and incense stick in front of the yantra in altar and do pooja.
Chant the mantra as mentioned above in front of yantra.
Thus, Yantras not only avert disasters but also help in bringing good things to life.
Yantras add value to one's life and do have mystical powers to heal certain issues which are not understood by most of the people.