Panchakshara Yantra
Panchakshara Yantra - Protection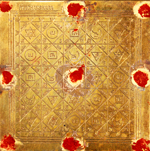 It is a very powerful yantra for Shiv Upasana and that bestows the worshipper with all round Success. This yantra contains the powerful Shiv panchakshri mantra "Om Namah Shivaya". Om Namah Shivaya mantra itself is made of beej letters as our scriptures say which includes different letters na, ma, shi, va, ya. This cyclic recitation is meant to invoke power/energy behind each beeja by initiating it like nung, mang, shing etc and then starting the mantra from that beej letter and completing it to rest of the letters in the mool mantra Om Namah Shivay.
You can keep this yantra at your office or altar place and do the pooja. You have to chant this mantra for 21/108 times and with the energy of chanting you would be blessed with the positive energy of Panchakshara Yantra.
Panchakshara Mantra is as follows
Nung namah shivay Mung mah shivay na Shing shivay namah vung vay namah shi yung ya namah shiva
How to use the Yantra in Altar?
Keep the Yantra on a Altar facing North or East, placing the center of the Yantra at the level of your eyes.
Wash the Yantra with rose water or milk and Wipe the yantra with clean cloth.
There will be change in color in excess of a period of time but energy of the yantra will not dissolve.
First apply sandalwood and then Kumkum on the edge of the yantra and in middle.
Do not forget to consecrate the fruits of this practice to God (karma yoga).
Then light a candle or ghee lamp and incense stick in front of the yantra in altar and do pooja.
Chant the mantra as mentioned above in front of yantra.
Thus, Yantras not only avert disasters but also help in bringing good things to life.
Yantras add value to one's life and do have mystical powers to heal certain issues which are not understood by most of the people.