Moon Yantra
Moon Yantra - Solve disturbances in life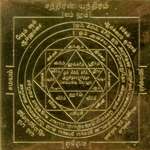 The Moon is a feminine vibration and is associated with receptivity, love, intuition, motherhood and the ability to be nurturing. A weak Moon leads to problems related to water (or bodily fluids), mental and emotional problems such as frequent depressive attacks, over-sensitivity or volatile emotions. When you are emotionally drained, you run out of confidence and courage to face even the slightest change in your life. On behalf of you, the Moon Yantra communicates your mental state and emotions to Lord Chandra. He will soothe you with his blessings adding the element of peace to your life. A disturbance in your mental or emotional life can result from a weak placement of Moon in your Birth Chart. The Moon Yantra is the solvent that can dissolve those disturbances in your life!
Moon is affected easily when in contact with Saturn, Rahu or Ketu. The mind of the person becomes clouded with a sense of doom unless Moon is in its own house or sign of exaltation. Even when it is in comfortable locations, some of its moon shine is lost. Moon is our capacity to be happy, as a ruler of the mind it is our gateway to the finer feelings in life.This Moon Yantra is essentially beneficial for people with debilitated or afflicted Moon by either, co-habitation or aspect of Saturn, Rahu or Ketu. Moon suffers the most and so does the person whose chart has this misfortune. Moon yantra will provide smoothness to life as follows.
People who are caught up in the waves of depression
People who struggle to balance their emotions
People who strive to heal the strain in relationships
People who wish for a peaceful life
People who have difficult relationship with mother or mother-figure
People who seek to increase intuition
People who wish to improve their access to feminine energies within themselves
You can keep this yantra at your office or altar place and do the pooja. You have to chant this mantra for 21/108 times and with the energy of chanting you would be blessed with the positive energy of Moon Yantra.
Moon Mantra is as follows
Om shram sreem shraum sah chandraya namah
How to use the Yantra in Altar?
Keep the Yantra on a Altar facing North or East, placing the center of the Yantra at the level of your eyes.
Wash the Yantra with rose water or milk and Wipe the yantra with clean cloth.
There will be change in color in excess of a period of time but energy of the yantra will not dissolve.
First apply sandalwood and then Kumkum on the edge of the yantra and in middle.
Do not forget to consecrate the fruits of this practice to God (karma yoga).
Then light a candle or ghee lamp and incense stick in front of the yantra in altar and do pooja.
Chant the mantra as mentioned above in front of yantra.
Thus, Yantras not only avert disasters but also help in bringing good things to life.
Yantras add value to one's life and do have mystical powers to heal certain issues which are not understood by most of the people.