Mars Yantra
Mars Yantra - Bringing Power to the Powerless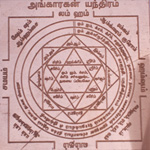 Sri Mangal Yantra helps the worshipper to overcome the above difficulties and one succeed in all his efforts to gain desires and lead a comfortalbe life. When Mars is malefic or one is of rash temprament, Mangal yantra/Mars yantra is very useful, it removes the evil effects of Mars like injury, accident etc. Those who are suffering from high blood pressure and those whose Mars is placed in first, fourth, seventh and tenth house shall keep this yantra at their homes or with themselves to ward off the evil effects of the planet Mars on them.
The ladies or gents who are deprived off the marriage even upto 30 to 40 years due to certain obstacles or married life is full of miseries and difficulties, bickings, threatened separation or divorce, should worship Mangal yantra/Mars Yantra toward off above evils. Also Mangal yantra/Mars Yantra works remarkably in case of abortions, denial of children, one remains in debt and is not capable to repay inspite of honest intentions rather debt increases making the life hell, all these difficulties can be overcome by the worship of Mangal yantra/Mars Yantra. This Mars Yantra helps the worshiper to overcome the above difficulties and one succeds in all his efforts to gain desires and led a comfortalbe life.
Mars Yantra refreshes the lives of
People who are short fused by nature
People who struggle to come out of their debts
People who strive hard to improve their go getting skills
People who wish for a hitch free life
People who need to focus their willpower
People who seek to improve their courage and ability to take risks
People who desire greater vitality and strength
You can keep this yantra at your office or altar place and do the pooja. You have to chant this mantra for 21/108 times and with the energy of chanting you would be blessed with the positive energy of Mars Yantra.
Mars Mantra is as follows
Om kram kreem kroum sah bhaumaya namah
How to use the Yantra in Altar?
Keep the Yantra on a Altar facing North or East, placing the center of the Yantra at the level of your eyes.
Wash the Yantra with rose water or milk and Wipe the yantra with clean cloth.
There will be change in color in excess of a period of time but energy of the yantra will not dissolve.
First apply sandalwood and then Kumkum on the edge of the yantra and in middle.
Do not forget to consecrate the fruits of this practice to God (karma yoga).
Then light a candle or ghee lamp and incense stick in front of the yantra in altar and do pooja.
Chant the mantra as mentioned above in front of yantra.
Thus, Yantras not only avert disasters but also help in bringing good things to life.
Yantras add value to one's life and do have mystical powers to heal certain issues which are not understood by most of the people.