Maha Vishnu Yantra
Maha Vishnu Yantra - Universe of creator and protector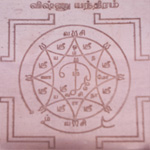 As Lord of Lords Sri Maha Vishnu is one who is the creator and protector of this universe. Lord Vishnu's power has been manifested on Earth as ten different Avatars or incarnations to rid the world of unrighteousness and evil. Lord Vishnu is the aspect of the Divine that preserves the Universe.Thus His blessing reflects immense value and safe guards an individual when is fortunate. To attain this immaculate strength there exist an yantra known as Sri Maha Vishnu yantra. Keeping this yantra energized with Lord's power when in possession by any individual and followed by daily chant worship, such people derives will power, resistance power and self confidences in life through out.
Sri Vishnu yantra can be used for achieving blessings, success, accomplishment and preservation of health, family, wealth and achievements.
You can keep this yantra in business or altar place and do the pooja .You have to chant this mantra for 108 times and with the energy of chanting you would be blessed with the positive energy of Maha Vishnu Yantra.
Maha Vishnu Yantra ia as follows.
"Om Namah Bhagvate Vasu Devay"
How to use the Yantra in Altar?
Keep the Yantra on a Altar facing North or East, placing the center of the Yantra at the level of your eyes.
Wash the Yantra with rose, water or milk. water or milk. Wipe the yantra with clean cloth.
There will be change in color in excess of a period of time but energy of the yantra will not dissolve.
First apply sandalwood and then Kumkum on the edge of the yantra and also in middle. Do not forget to consecrate the fruits of this practice to God (karma yoga).
Then light a candle or ghee lamp and incense stick in front of the yantra in altar and do pooja. Chant the mantra as mentioned above in front of yantra.
Thus, Yantras not only avert disasters but also help in bringing good things to life. Yantras add value to one's life and do have mystical powers to heal certain issues which are not understood by most of the people.