Maha Ganapathy Yantra
Maha Ganapathy Yantra - Prosperity and Sucess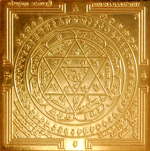 Maha Ganesh Yantra, the remover of all obstacles and also helps one to attain Siddhi, prosperity and success. This is a very Effective Yantra. His yantra consists of a square, inside which is an eight petals lotus, inside this is a hexagon and in the centre an upward facing triangle. Ganesh is the foremost God.He is worshipped first on all auspicious occasions, whether it is a marriage or a religious function. Ganeshji is also invoked and worshipped before any festival, or a new project or venture that a Hindu undertakes. Ganesh has many faces and many forms including a pose of him dancing, a pose of him as a child and a young man.
Maha Ganapathy yantra is kept and it is recommended to do pooa before starting any work. The worshipper is blessed with success in work, business and all undertakings. The sadhaka will be blessed with fulfillment of desires, power, wealth and authority. The Lord Ganpati is the fulfiller of all wishes. His grace removes all obstacles and impediments, He is the Divine Purveyor of true knowledge, success in life, prosperity and all Spiritual Powers. And hence all Gods, humans and even demons bow to Him.
You can keep this yantra in your house, office or altar place and do the pooja .You have to chant this mantra for 108 times and with the energy of chanting you would be blessed with the positive energy of Maha Ganapathy Yantra.
Maha Ganapathy Mantra is as follows
Om Sreem Hreem Kleem Gloung Gang Ganapataye Var Varade Sarva Jan Me Vash Manaya Namaha!
How to use the Yantra in Altar?
Keep the Yantra on a Altar facing North or East, placing the center of the Yantra at the level of your eyes.
Wash the Yantra with rose, water or milk. water or milk. Wipe the yantra with clean cloth.
There will be change in color in excess of a period of time but energy of the yantra will not dissolve.
First apply sandalwood and then Kumkum on the edge of the yantra and also in middle. Do not forget to consecrate the fruits of this practice to God (karma yoga).
Then light a candle or ghee lamp and incense stick in front of the yantra in altar and do pooja. Chant the mantra as mentioned above in front of yantra.
Thus, Yantras not only avert disasters but also help in bringing good things to life. Yantras add value to one's life and do have mystical powers to heal certain issues which are not understood by most of the people.