Lalitha Parameswari Yantra
Lalitha Parameswari Yantra - Destroying the evil sprit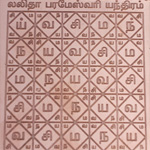 Goddess Lalita is all about how the Goddess came into being and destroyed the demon Bhandasura. Goddess Lalita, also known as Lalita Tripura Sundari Devi and the red Goddess, is one of the most powerful manifestations of Goddess Shakti. The legend of Goddess Lalita can be traced to the invasion and occupation of heaven by a demon named Tarak. Lalita Devi created 4 different weapons with the power of her will. They were (i) Ikshu Dhanus (ii) Five arrows, (iii) Pasha (noose) and (iv) Ankusha (a special hook). She held these weapons in her hands. She extended Herself in both male and female forms and continued the process of creation. From the left eye, which was of the nature of Soma (moon) came Brahma and Lakshmi Devi; from the right eye, which was of the nature of Surya (sun) came Lord Vishnu and Parvati; from the third eye, which was of the nature of Agni (fire), came Rudra and Sarasvati; Lakshmi and Vishnu, Shiva and Parvati and Brahma and Sarasvati became couples. Lalita Devi directed them to continue the process of Creation. Later Lalita Devi proceeded for the battle against Bhandasura. The battle raged between the Goddess' army and that of Bhandasura and finally Lalita Devi discharged the Mahakameshawarastra and annihilated Bhandasura.
You can keep this yantra at your office or altar place and do the pooja. . You have to chant this mantra for 21/108 times and with the energy of chanting you would be blessed with the positive energy of Santhana Gopala Yantra.
Lalitha Parameswari Mantra is as follows
Om Hlim Klim Aing Sowha Hlim Shreem Kam Ail Hlim Hansa Kahal Hlim Sakal Hlim Soha Aim Kleem Hleem Shreem
How to use the Yantra in Altar?
Keep the Yantra on a Altar facing North or East, placing the center of the Yantra at the level of your eyes.
Wash the Yantra with rose, water or milk. water or milk. Wipe the yantra with clean cloth.
There will be change in color in excess of a period of time but energy of the yantra will not dissolve.
First apply sandalwood and then Kumkum on the edge of the yantra and also in middle. Do not forget to consecrate the fruits of this practice to God (karma yoga).
Then light a candle or ghee lamp and incense stick in front of the yantra in altar and do pooja. Chant the mantra as mentioned above in front of yantra.
Thus, Yantras not only avert disasters but also help in bringing good things to life. Yantras add value to one's life and do have mystical powers to heal certain issues which are not understood by most of the people.