Kubera Yantra
Kubera Yantra - God of Wealth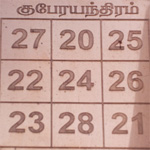 Kubera is regarded as the god of wealth and the treasurer. Lord Kubera is also known as the god of yakshas (savage beings). Kubera is always remembered with the goddess of fortune, Lakshmi. Chanting of Kubear Mantra blesses the worshipper with money and prosperity by drawing new avenues and sources of income and wealth..
His importance stems from the fact that he distributes wealth wisely among people. Kuber Yantra has benefits like find hidden wealth, retrieving lost money in business etc. The Yantra is much sought after in modern world.
Those people associated with Yantras state that by worshipping Kuber Yantra at home one will make profit in business, there will be gains from investments, will come into possession ancestral property, treasures hidden in property will be found and there will be luck in lottery related matters.
Mantra of Kubera helps to increase the flow of funds and the ability to accumulate wealth .You can keep this yantra in a business or altar place and do the pooja. you have to chant this mantra for 108 times and with the energy of chanting you would be blessed with money and prosperity in life.
Kubera Mantra is as follows
To Increase Wealth
"Om Yakshyaya Kuberaya Vaishravanaaya Dhanadhanyadi Padayeh
Dhana-Dhanya Samreeddhing Me Dehi Dapaya Swaha"
How to use the Yantra in Altar?
Keep the Yantra on a Altar facing North or East, placing the center of the Yantra at the level of your eyes.
Wash the Yantra with rose, water or milk. Water or milk. Wipe the yantra with clean cloth.
There will be change in color in excess of a period of time but energy of the yantra will not dissolve.
First apply sandalwood and then Kumkum on the edge of the yantra and also in middle. Do not forget to consecrate the fruits of this practice to God (karma yoga).
Then light a candle or ghee lamp and incense stick in front of the yantra in altar and do pooja. Chant the mantra as mentioned above in front of yantra.
Thus, Yantras not only avert disasters but also help in bringing good things to life. Yantras add value to one's life and do have mystical powers to heal certain issues which are not understood by most of the people.