Karya Siddhi Yantra
Karya Siddhi Yantra - Fulfillment of all desires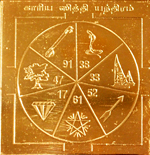 karya Siddhi Yantra is meant for Fulfillment of all Desires. Karya Siddhi is an highly effective Yantra, which ensures the individual's well-being & success in almost every aspect of his life. Karya Siddhi Yantra is composed of a circle, divided into seven equal segments, each segment containing a figure & a number. One is for knowledge, wisdom & healing of diseases; one denotes music, confidence & happiness; for family progress in the present and future; For health, wealth, prosperity, a comfortable & happy home, and protection from all troubles; For power, authority, finances of the individual & those dependent on him. Karya Siddhi yantra also signifies success in politics, favors from superiors & fulfillment of all desires; for protection against the 'evil eye' and other dangers to both - the individual & his family, for courage against all odds, ensuring success in all activities. Sri Karya Siddhi Yantra is embossed on a very heavy square copper plate and has been specially energised to radiate its beneficial powers.
You can keep this yantra in business or altar place and do the pooja .You have to chant this mantra for 108 times and with the energy of chanting you would be blessed with the positive energy of Karya siddhi Yantra.
Karya Siddhi Mantra ia as follows.
"Om Hreem shreem Kleem Mam Karya Sadhay Sadhay Namaha"
How to use the Yantra in Altar?
Keep the Yantra on a Altar facing North or East, placing the center of the Yantra at the level of your eyes.
Wash the Yantra with rose, water or milk. water or milk. Wipe the yantra with clean cloth.
There will be change in color in excess of a period of time but energy of the yantra will not dissolve.
First apply sandalwood and then Kumkum on the edge of the yantra and also in middle. Do not forget to consecrate the fruits of this practice to God (karma yoga).
Then light a candle or ghee lamp and incense stick in front of the yantra in altar and do pooja. Chant the mantra as mentioned above in front of yantra.
Thus, Yantras not only avert disasters but also help in bringing good things to life. Yantras add value to one's life and do have mystical powers to heal certain issues which are not understood by most of the people.