Jupiter Yantra
Jupiter Yantra - With prosperity and intelligence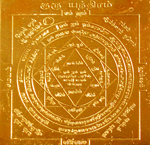 The Yantra is the depository of bouncing radiations that can lift your spiritual spirits and religious faith. These radiations can transform your uncomfortable livelihood into a peaceful, blissful and satisfying career for you by opening doorways to higher learning. Your capacity for knowledge depends on how strong Jupiter is in your Natal Chart. He rules your spiritual interests, knowledge, ego and temperament. Jupiter is very affectionate towards people who seek his refuge. His great phase lasts till sixteen years. If he is negatively placed in your chart, Jupiter cause you to lag behind in these characteristics. To curb the malefic effects of Jupiter, this Yantra is handy for you. It amplifies your thirst for knowledge and brings about positive results in all your endeavors.
Harness the boundless divine energy to generate positivity in and around you. When you awaken the spirits of divinity in you, you will sense the heavenly harmony creeping into your mind and soul! This is a continuous process in which the harmony enhances your power of thinking, and in turn you leave a dynamic impact on your living space. Here, Jupiter Yantra is your mediator.
Jupiter Yantra enhances the lives of:
People who wish to stimulate their religious interests
People who yearn to expand their knowledge
People who strive for success in their sphere of life
People who suffer from the ill effects of Jupiter in their Birth Chart
People who wish to improve their relationships with their spiritual benefactors
People who wish to give good service as mentors to others
You can keep this yantra at your office or altar place and do the pooja. You have to chant this mantra for 21/108 times and with the energy of chanting you would be blessed with the positive energy of Jupiter Yantra.
Jupiter Mantra is as follows
Om jhram jhreem jroum sah gurave namah
How to use the Yantra in Altar?
Keep the Yantra on a Altar facing North or East, placing the center of the Yantra at the level of your eyes.
Wash the Yantra with rose water or milk and Wipe the yantra with clean cloth.
There will be change in color in excess of a period of time but energy of the yantra will not dissolve.
First apply sandalwood and then Kumkum on the edge of the yantra and in middle.
Do not forget to consecrate the fruits of this practice to God (karma yoga).
Then light a candle or ghee lamp and incense stick in front of the yantra in altar and do pooja.
Chant the mantra as mentioned above in front of yantra.
Thus, Yantras not only avert disasters but also help in bringing good things to life.
Yantras add value to one's life and do have mystical powers to heal certain issues which are not understood by most of the people.