Hanuman Yantra
Hanuman Yantra - Vigor and Overcome Enemies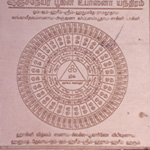 Sri Hanuman yantra is used for power, authority, vigour and to overcome Enemies. Hanuman Yantra is to appease Lord Hanuman. Those who have malefic Mars in their chart or Horoscope shall perform daily puja to Hanuman Yantra. Continous 40 days puja with oil, sindoor, laung, supari and Beetal leaves yeilds to success in whatever work you wish. Hanuman Yantra is very auspicious and useful in bussiness success. The lord of power, Authority and Vigour is Lord Hanuma. This yantra is very Powerful and tested. During the puja of Hanuman Yantra, the Sadhak should remain absolutely pious and observe Barahmcharya. Keep fast on every Tuesday after starting the puja. Meditating on this Yantra can infuse you with a strong will, a brave heart and the courage to overcome all odds.
Lord Hanuman is said to be the great devotee of Lord Ram Chandra. In India Lord Hanuman is worshiped for every reason, may it be to gain wealth, health or wisdom, may it be to gain success in business or foreign trips, may it be to dominate the enemies or to win almost-lost court cases, may it be the reason to get rid of BHOOT-PRET BADHA, the fear of Ghosts and devils. Lord Hanuman in known as the "SANKAT MOCHAN", the one who can save the native from all and any kind hurdles and obstructions of the life. Hanuman Yantra is a very powerful tool to devote Lord Hanuman and to gain the blessings of Lord Hanuman and to get rid of all the problems a native may face in his life.
You can keep this yantra at your office or altar place and do the pooja. . You have to chant this mantra for 21/108 times and with the energy of chanting you would be blessed with the positive energy of Hanuman Yantra.
Hanuman Mantra is as follows
Om Hanumate Namah
How to use the Yantra in Altar?
Keep the Yantra on a Altar facing North or East, placing the center of the Yantra at the level of your eyes.
Wash the Yantra with rose, water or milk. water or milk. Wipe the yantra with clean cloth.
There will be change in color in excess of a period of time but energy of the yantra will not dissolve.
First apply sandalwood and then Kumkum on the edge of the yantra and also in middle. Do not forget to consecrate the fruits of this practice to God (karma yoga).
Then light a candle or ghee lamp and incense stick in front of the yantra in altar and do pooja. Chant the mantra as mentioned above in front of yantra.
Thus, Yantras not only avert disasters but also help in bringing good things to life. Yantras add value to one's life and do have mystical powers to heal certain issues which are not understood by most of the people.