Gayatri Yantra
Gayatri - Spiritual power and peace of mind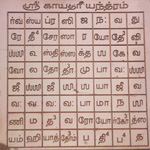 Gayatri Yantra is one of the most Holy & auspicious Yantras. It increases mental and physical strength, cures diseases, protects one from enemies, and is excellent for general well-being. It increases soul power, awakens the spiritual self & brings one closer to his self and God. It also leads a person on to the right path, blesses him with peace, happiness and inner satisfaction. It also ensures overall growth & development of the individual and his family. In case a house or man is afflicted by souls and spirits, the Yantra after Pooja be dipped in water, and water be sprinkled in house for a week, all spirits etc., will vanish. This yantra is very good for seeking divine help in studies and results.
The Gayatri Mantra is the believed to be the supreme Mantra among all other as its alone is a lot enough to wipe out most of the hurdles and negative impacts from the life path. This single Mantra can play a effecting role at the place of many Mantras to a good extent and can be used at many occasions to fulfill the rituals. In the same way, Gayatri Yantra also possess the higher significance and much potency in the arena of Yantras. Besides this, it takes you closer to divine souls and enhance the power of your soul while by side making you strong at mind and purifying you at the core.
You can keep this yantra either in your house, office or altar place and do the pooja. You have to chant this mantra for 21/108 times and with the energy of chanting you would be blessed with the positive energy of Gayatri Yantra.
Gayatri Mantra is as follows
"Om Bhoorbhuvah Swah Tatsyavitur Vareniyam, Bhargo Devasya Dhi Mahi Dhiya Yona Prachodyat"
How to use the Yantra in Altar?
Keep the Yantra on a Altar facing North or East, placing the center of the Yantra at the level of your eyes.
Wash the Yantra with rose, water or milk. water or milk. Wipe the yantra with clean cloth.
There will be change in color in excess of a period of time but energy of the yantra will not dissolve.
First apply sandalwood and then Kumkum on the edge of the yantra and also in middle. Do not forget to consecrate the fruits of this practice to God (karma yoga).
Then light a candle or ghee lamp and incense stick in front of the yantra in altar and do pooja. Chant the mantra as mentioned above in front of yantra.
Thus, Yantras not only avert disasters but also help in bringing good things to life. Yantras add value to one's life and do have mystical powers to heal certain issues which are not understood by most of the people.