Dhanavantri Yantra
Dhanavantri Yantra - Divine Cure to health Aliments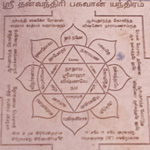 Lord Dhanvantari is in ancient Hinduism believed to be the father of medicine and health. Lord Dhanwanthari is idolized as the personification of Vishnu, also known as God of Ayurveda and there are numerous acknowledgments about him in the ancient Hindu scriptures like the Vedas and the Puranas. Sri Dhanvanthri God who appeared at the churning of the ocean is also known as the physician of gods. He is worshipped in a special manner by the physician community. He is the father of Indian Medical science and Ayurveda is ascribed to him. He is said to be the first physician and surgeon. Lord Dhanvantari is also worshipped in India as the God of health and immortality.
Lord Dhanvantri is the divine physician who brought with him the knowledge of health, long life. He was the Vaidya Ratna and a Divine Healer. The evolution of Lord Dhanvantari is a very rare occurrence. Placing Danvantri yantra is very beneficial for good health as it destroys the negative ions in the surrounding and brings the positivity and brings good health to the worshipper. This yantra control your body and soul through radiations. You can keep this yantra in altar and do the pooja .you have to chant this mantra for 108/21 times and with the energy of chanting you would be ratified by health problems.
People who suffer from severe health ailments
People who yearn to lead a happy and peaceful life
People who yearn for a positive change to take place in their lives
People who seek more robust health
Dhanvantri Mantra is as follows
"Om Namo Bhagavate
Maha Sudharshana
Vasudevaya Dhanvantaraye;
Amrutha Kalasa Hasthaaya
Sarva Bhaya Vinasaya
Sarva Roka Nivaranaya
Thri Lokya Pathaye
Thri Lokya Nithaye
Sri Maha Vishnu Swarupa
Sri Dhanvantri Swarupa
Sri Sri Sri
Aoushata Chakra Narayana Namaha"
or
Om Dhanvantaraye Namaha /Om Shri Dhanvantre Namaha
How to use the Yantra in Altar?
Keep the Yantra on a Altar facing North or East, placing the center of the Yantra at the level of your eyes.
Wash the Yantra with rose, water or milk. water or milk. Wipe the yantra with clean cloth.
There will be change in color in excess of a period of time but energy of the yantra will not dissolve.
First apply sandalwood and then Kumkum on the edge of the yantra and also in middle. Do not forget to consecrate the fruits of this practice to God (karma yoga).
Then light a candle or ghee lamp and incense stick in front of the yantra in altar and do pooja. Chant the mantra as mentioned above in front of yantra.
Thus, Yantras not only avert disasters but also help in bringing good things to life. Yantras add value to one's life and do have mystical powers to heal certain issues which are not understood by most of the people.