Dattatriya Yantra
Dattatriya Yantra - Ward off the evil eye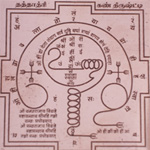 Lord Dattatreya is Guru of all Gurus considered as Incarnation of Shiva, Vishnu and Brahma born to the great Saint Atri and his devoted wife Anusuya. This is Datta meaning " to give - Gift " because a pure saint always gives back what he has to this world. In the Natha tradition, Dattatreya is recognized as an Avatar or incarnation of the Lord Shiva and as the Adi-Guru(First Teacher) of the Adi-Nath sampradaya of the Nathas. Although Dattatreya was at first a "Lord of Yoga" with Tantric traits, he was adapted and assimilated into the more devotional cults; while still worshiped by millions of Hindus, he is approached more as a benevolent God than as a teacher of the highest essence of Indian thought.
Dattatreya is usually depicted with three heads, symbolising Brahma, Vishnu, and Shiva; past, present, and future; and the three states of consciousness: waking, dreaming, and dreamless sleep. He is portrayed sitting in meditation with his shakti beneath the audumbara(wish-fulfilling) tree. In front of him is a fire pit, and around him are four dogs. These are sometimes said to symbolise the four Vedas.
Dattatreya yantra is also known as Drishti yantra. It protects from Drishti too(ie Evil eye, Negative energy). Sri Dattatreya yantra is the only Yantra in the Dutta Sampradaya. It is very potent & a highly revered Yantra. Sri Dattatreya yantra is useful for prosperity, knowledge and wealth.
You can keep this yantra either in your house, office or altar place and do the pooja. You have to chant this mantra for 21/108 times and with the energy of chanting you would be blessed with the positive energy of Dattatreya Yantra.
Dattatreya Mantra is as follows
Om Dram Dattatreya Namaha
How to use the Yantra in Altar?
Keep the Yantra on a Altar facing North or East, placing the center of the Yantra at the level of your eyes.
Wash the Yantra with rose, water or milk. water or milk. Wipe the yantra with clean cloth.
There will be change in color in excess of a period of time but energy of the yantra will not dissolve.
First apply sandalwood and then Kumkum on the edge of the yantra and also in middle. Do not forget to consecrate the fruits of this practice to God(karma yoga).
Then light a candle or ghee lamp and incense stick in front of the yantra in altar and do pooja. Chant the mantra as mentioned above in front of yantra.
Thus, Yantras not only avert disasters but also help in bringing good things to life. Yantras add value to one's life and do have mystical powers to heal certain issues which are not understood by most of the people.