Chidambara Chakra Yantra
Chidambara Chakra Yantra - Means creating any line in the inner space by your mind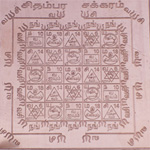 Chidambaram is combination of "chitt", which means conscience and "ambara" another name for "akash" (or "ether"). There is a chakra (Chidambara Chakra) which contains the Panchakshara or five-letters of Lord Siva-Nama Sivaya-on the wall to the back of this idol.There are five courts or Sabhas in the temple viz., the Chit Sabha, Kanaka Sabha, Raja Sabha or Durbar, the Nritta Sabha and the Deva Sabha. Chidambaram is identified as a cult of Shiva as the 'King of dancers (Nataraja)
Lord Nataraja danced in the Chit Sabha or the Hall within the temple. The five steps that lead to the Golden pillared hall or Kanaka Sabha represent the five letters-Nama Sivaya. The Raja Sabha is located within the thousand-pillared Hall. The Nritta Sabha demonstrates the Oordha Tandava dance of Lord Nataraja. Darshan of Lord Nataraja with intense bhav gives Mukti.
You can keep this yantra at your office or altar place and do the pooja. . You have to chant this mantra for 21/108 times and with the energy of chanting you would be blessed with the positive energy of Chidambara Chakra Yantra.
Chidambara Chakra Mantra is as follows
Om Lam Vam Ram Yam Ham Namah
How to use the Yantra in Altar?
Keep the Yantra on a Altar facing North or East, placing the center of the Yantra at the level of your eyes.
Wash the Yantra with rose water or milk and Wipe the yantra with clean cloth.
There will be change in color in excess of a period of time but energy of the yantra will not dissolve.
First apply sandalwood and then Kumkum on the edge of the yantra and in middle.
Do not forget to consecrate the fruits of this practice to God (karma yoga).
Then light a candle or ghee lamp and incense stick in front of the yantra in altar and do pooja.
Chant the mantra as mentioned above in front of yantra.
Thus, Yantras not only avert disasters but also help in bringing good things to life.
Yantras add value to one's life and do have mystical powers to heal certain issues which are not understood by most of the people.