Panchabhoota Sthalams - Temples of five elements
This world is ruled by five basic elements that are Water, Fire, Space, Wind and Earth. We can't do anything without anyone this elements. Where Lord Shiva is in these forms is called Panchabootha Sthalangal. This is one of the most revered temples to Shiva; it is one of the Panchabhoota Stalams signifying the 5 elements of wind(Kalahasti), water(Tiruvanaikka), fire(Tiruvannamalai), earth(Kanchipuram) and space(Chidambaram).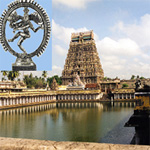 Chidambaram Nataraja temple is one of the panchabhoota temples representing space. The ancient Chidambaram Nataraja Temple is dedicated to Lord Shiva in the form of the Cosmic Dancer and is the oldest temple in Southern India. The 1000 pillared hall, the Nritya Sabha or court is carved out like a gigantic chariot. Sambanthar, Tirunavukkarasar, Sundaramurti Swamigal, Manickavasagar and Nandanar attained Mukti in Chidambaram. Bharatanatyam dancers from different parts of the world offer their prayers to Lord Nataraja during the famous annual Natyanjali festival. A number of families are engaged in the gold and silver ornament-making business for generations. Most of the artifacts are hand created, which are rich in quality and artistry. Sri Raghavendra Swami was born near Chidambaram. Chidambaram is home to the Annamalai University.
Thiruvanaikaval is a famous Shiva temple in Tiruchirapalli. Thiruvanaikal is one of the five major Panchabhoota Sthalams representing one of the five great elements. This temple represents the element of water.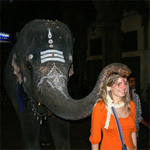 Jambukeswara is depicted sitting under a jambu tree, which grows over a small stream that engulfs the deity during the rainy season. The massive outer wall, known as the Vibudhi Prakara, stretches over a mile long and is two feet thick and over 25 feet in height. Legend has it that the wall was built by Shiva along with the labourers. The Sannadhi of the Goddess Akilandeshwari and the Sannadhi of Prasanna Vinayaka are in the shape of the pranava manthra called "Aum". It is believed that people who go round the sannadhi, which is in the shape of "Aum" 12 times and for one full mandala, 48 days will get the blessings of the Goddess Akilandeshwari and lead a good, healthy and wealthy life. It is believed that the Amman in the temple was very angry and hence during one of Adi Sankara's visit he installed the Prasanna Ganapathy Idol right opposite her Sannadhi and thereafter her anger subsided.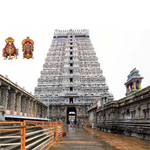 Thiruvannamalai is home to the Annamalaiyar Temple. Thiruvannamalai has long been associated with many yogis and siddhars. Thiruvannamalai is one of the Pancha Bootha Sthalam representing the fire element. On the day of Karthigai Deepam, a huge lamp is lit in a cauldron with three tons of ghee at the top of the Annamalai hill. Every full moon night, tens of thousands of pilgrims worship Shiva by circumambulating the Arunachala hill barefoot. Advaita Vedanta Guru Ramana Maharshi lived in Thiruvannamalai for 53 years until his death in 1950. Seshadri Swamigal and Yogi Ram Surat Kumar are other great gurus who lived in this city. There were many hundreds of saints guru and sidhargal lived in Thiruvannamalai.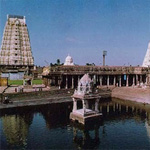 Kancheepuram Ekambareswarar Temple is one of the famous temples dedicated to Lord Shiva, in Kancheepuram. It is one of the five major Shiva temples or Pancha Bootha Sthalams representing the element - Earth. This vast temple is one of the most ancient temples in India having been in existence since 600 AD. The temple covers an area of over 40 acres. Rajagopuram is one of the tallest in South. A notable feature of the temple is the hallway with a thousand pillars. The temple's inner walls are decorated with an array of 1,008 Siva lingams. Its sthala-viruksham is a 3,500 year old mango tree whose branches are said to yield four different types of mangoes.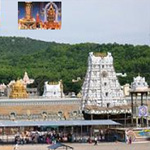 Sri Kalahasti It is one of the important ancient Shiva Kshetras or Shiva Temples. It is fairly close to the famous hill temple of Lord Venkateshwara Tirupati. This is where the popular textile painting art called Kalamkari originated. It is believed that Kannappa also known as Bhakta Kannappa, a tribal devotee worshipped Lord Siva at Sri Kalahasti.Brahma, the Hindu God of creation, is said to have worshipped Lord Shiva and bathed in the Swarnamukhi river to get rid of "Sisuhathya patakam" the sin of killing children. It is one of the panchabhoota sthalam - representing one of the five basic elements - Vayu Sthalam or Air Linga. There is a lamp burning inside the inner sanctum that constantly flickers despite the lack of air inside. The sanctum has no windows, and the lamp flames keep moving despite no air movement. The linga is white and is considered Swayambhu or self-manifested.
Note: This is for your kind information that pooja materials, food charges and other expenses have to be borne by the customer directly.
Note: This is for your kind information that pooja materials, food charges and other expenses have to be borne by the customer directly.
Chennai to Navagraha Tip - 3 Days Package
India Someday' - Your travel to India with a little assistance!
A holiday in India will leave you with memories for a lifetime. We want to assist you in planning a well thought, personalized and yet cost-effective Indian holiday.
The sheer variety of places to visit in Tamil Nadu, India and the size of the country make it difficult to plan a two - three days or week India trip. Which places to visit? Which destinations to skip? How to connect from one place to the other?
We are a young, energetic and resourceful in this and that enjoys working closely with our guests to help them plan an exciting Indian holiday experience.
We would like to know more about your intended 'Trip to India', understand the kind of holiday you are looking for and assist you in planning your trip with cost details. Based on your requirements we will help and guide you with all arrangements.
Mission: Our mission is to provide Quality and excellence service to our customers promptly and exclusively."
For further more communication you can contact us directly us thru' online or by telephone communication and through email also as details given below.
Skype Id: astrologypredict108
Contact No: +91 99941 60913 | +91 909 466 2055
E Mail: [email protected]
Quick Contact For Details