Nava Tirupathi
Nava thirupathi Temples is a set of nine Hindu temple dedicated to Lord Vishnu located in Tamilnadu, India in the banks of Thamiraparani river. All these 9 temples are classified as "Divya Desams", the 108 temples of Vishnu reverred by the 12 poet saints, or Alwars. Nava Thirupathy Vaishnava temples are situated both in Chola and Pandia Regions. There are no separate shrines for the Navagrahas (9 planets) in these temples as the presiding deity is a graha (planet) himself in the respective temples. Devotees throng these temples for relief from the adverse effects of the planets in their own individual life and also for the welfare of the members of the entire family.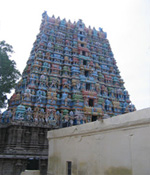 Sri Vaikuntam(Sun-Suriyan) - The story goes that the Lord, disguised as a thief, presented himself before the King to save the(real) thief. Hence, the Lord here is also known as KallarPiran(Kalla meaning thief). In Vishnu temples, Adisesh, the Serpent God unfurls his hood over Vishnu in a reclining posture. A unique feature of the Lord here is that Adisesh has his hood above the Lord in standing posture, one of its kind in the 108 Divya Desams. Another feature of the temple is that the sun's rays falls directly on Lord Vaikuntanathan on two days (April-May and October-November period) every year. It is believed that this temple was used as a fort in the fight between the legendary freedom fighter Veerapandiya Kattabomman and the British in the 1800s.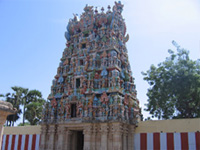 Srivaragunamangal Chandran - Thiruvaraguna Mangai temple is known to many as the Vishnu temple at Natham. True to his name, Lord Vijayaasanar is seen to be sitting majestically like a victorious king on the throne. It is believed that a visit to this temple will help one attain moksha. This place is said to be a Chandran Kshetram.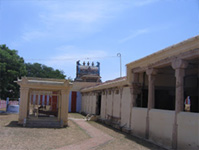 Thiruppuliyankudi - Lord KaasinaVenthar temple at Thirupulingkudi. The east-facing Lord is seen in a reclining posture with a lotus stalk from his navel terminating in a flower on Brahma's image on the wall of the sanctum. The story goes that Vishnu, along with Goddess Sridevi, came down to visit this place. Angered at being ignored for the trip,Goddess Bhoodevi hid herself in the netherworld. After Vishnu pacified her, it is believed that the two goddesses came back together and gave darshan here with the Lord. An interesting feature of the temple is that Vishnu's feet can be viewed through a small window in the passage.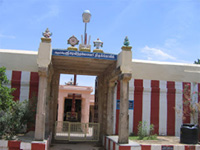 Irettai Tirupathi(Rahu) - Irettai Tirupathi or twin temples that lie in the middle of a jungle. The first of the two temples has Lord Devapiran in a standing posture facing east. Sage Suprabhar who performed a yagna at this place relieved a man and a woman from Kubera's curse, which had turned them into a measuring scale (tulai) and a bow (villi). Hence this place is called Tulai Villi Mangalam.
Irettai Tirupathi(Kethu) - At the second temple, one finds Lord Aravindalochanar in a seated posture facing east. Legend has it that Lord Vishnu was impressed with Sage Suprabhar's daily lotus pooja and gave darshan to the sage on the northern banks of Tamaraibarani. Hence, it is believed that one who does special 'Lotus Flower' pooja at this temple will be relieved of all sins.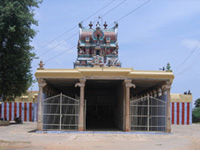 Thirukuzhanthai(Perungulam) Sani temple - The Maayakoothan temple at Thirukulanthai east of SriVaikuntam. Legend has it that Vishnu went on his Garuda Vaahan to rescue Goddess Lakshmi from an Asura. Hence, one finds Garuda as the Utsav deity here. In the battle that ensued, Vishnu is said to have performed his victory dance standing on Asura's body and hence the name 'MaayaKoothan'.
ThenThiruperai(Sukran) - On the South bank of Tamaraibarani,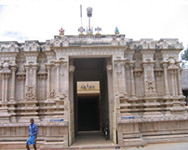 one finds the big Nigaril Mugilvannan temple at ThenThiruperai, where the Lord is seen in a seated posture facing east. Legend has it that Goddess Bhoodevi found two fish-shaped ear rings while performing a penance to relieve herself of Sage Durvasa's curse and offered it to the Lord. Another story is that Varuna (the rain god) performed a penance here to be relieved of his curse. As a mark of this episode, it is believed that Varuna, visits this temple, every year, on the full moon day in the month of Panguni (March-April) and worships Vishnu.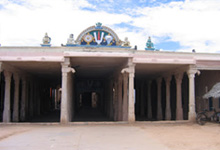 Thirukkoloor - South west of Then Thiruperai is the Vaitha Maa Nidhi temple at Thiru Kolur, where the Lord is in a reclining posture facing east. This is the birth place of MaduraKaviAzhvaar, the ardent devotee of Nammazhvaar. Legend has it that Kubera attained salvation from Goddess Parvati's curse at this place and it was here that his Nava Nidhis were restored. It is said that a visit to this temple will help one recover lost wealth.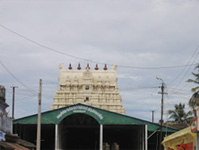 Alwarthirunagari Viyazhan - At last Nava Tirupathi temples is the AadiNaathan temple. Lord Nambi of Thirukkurungkudi is believed to have been born here as Nammazhvaar. When born, Nammazhvaar is said to have not opened his eyes or cried. He resided under a tamarind tree within the temple for 16 years till he met Madurakavi (who was to later become his disciple) who posed some interesting questions about life. So impressed was MaduraKavi (Azhvaar) with Nammazhvaar's answers, that he said, "I do not need God, Nammazhvaar is enough". An important festival at this temple is the Vaikasi Utsav, when the deities from all the Nava Tirupathi temples congregate here to listen to the Paasurams with Nammazhvaar seated on the Hamsa Vaahan. This is one of the three Divya Desams in TN where Araiyar Sevai, the visual song and dance enactment of the Paasurams is still being performed. Most of the inscriptions here date back to 1000 years.
Note: This is for your kind information that pooja materials, food charges and other expenses have to be borne by the customer directly.
Note: This is for your kind information that pooja materials, food charges and other expenses have to be borne by the customer directly.
Chennai to Navagraha Tip - 3 Days Package
India Someday' - Your travel to India with a little assistance!
A holiday in India will leave you with memories for a lifetime. We want to assist you in planning a well thought, personalized and yet cost-effective Indian holiday.
The sheer variety of places to visit in Tamil Nadu, India and the size of the country make it difficult to plan a two - three days or week India trip. Which places to visit? Which destinations to skip? How to connect from one place to the other?
We are a young, energetic and resourceful in this and that enjoys working closely with our guests to help them plan an exciting Indian holiday experience.
We would like to know more about your intended 'Trip to India', understand the kind of holiday you are looking for and assist you in planning your trip with cost details. Based on your requirements we will help and guide you with all arrangements.
Mission: Our mission is to provide Quality and excellence service to our customers promptly and exclusively."
For further more communication you can contact us directly us thru' online or by telephone communication and through email also as details given below.
Skype Id: astrologypredict108
Contact No: +91 99941 60913 | +91 909 466 2055
E Mail: [email protected]
Quick Contact For Details