Goddess Saraswati - Secular and divine knowledge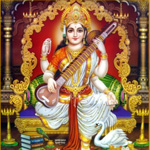 Goddess Saraswati or Devi Sarasvati is the goddess of knowledge, music and the arts. She is the consort of Lord Brahma. Goddess Saraswati is considered to be the "mother of the Vedas". The name Saraswati came from "saras" (meaning "flow") and "wati" (meaning "a woman"). So, Goddess Saraswati is symbol of knowledge; its flow (or growth) is like a river and knowledge is supremely alluring, like a beautiful woman.
Goddess Saraswati who is that manifestation of the Universal Mother who blesses us with success in education. In the Rigveda, Saraswati is a river as well as its personification as a goddess. In the post-Vedic age, she began to lose her status as a river goddess and became increasingly associated with literature, arts, music, etc. Goddess Saraswati represents intelligence, consciousness, cosmic knowledge, creativity, education, enlightenment, music, the arts, and power. Hindus worship her not only for "secular knowledge", but for "divine knowledge" essential to achieve moksha.
It represent the 3 forms of literature:
Poetry - the Rigveda contains hymns, representing poetry
Prose - Yajurveda contains prose
Music - Samaveda represents music.
Sri Anuradha Kramana Saraswathi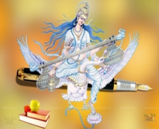 Particularly important for students, scientists, researchers, inventors, linguists, musicians, artists, actors, dancers and intellectuals amongst others. Many are the Saraswati manifestations: Gnana Saraswathi, Brindavana Sarasvati, Bharati and so on.
She is the Divine Mother who blesses us with success in advanced technical fields such as atomic energy, medicine, computers, technology, engineering, physics, chemistry, astronomy, metallurgy and so on in this Kali Yuga. While blessing us with success in all these fields, Mother Sucharita Saraswati Herself remains a humble student of Lord Sri Lakshmi Hayagreeva, thereby instructing us by example that humility is the first requirement of education and the educated.
Who is Saraswathi Devi or Anuradha Kramana Saraswathi?
Saraswathi Devi is the consort of Lord Brahma, the creator of Universe, and is the embodiment of knowledge and arts. It is only with the help of Saraswathi Devi's knowledge, Lord Brahma created the universe and its beings. Among her other renowned names, Saraswathi Devi is also known as Kalaivani, bestower of arts, and Vagdevi, Godess of speech and sound.
Goddess Saraswathi Yantra
Goddess saraswati is regarded as goddess of wisdom and also goddess of speech. Suitable for students who suffered from breakups in education and also suffering from maletic effects of jupiter. Saraswati is goddess of knowledge, music, and the fine arts.
saraswati yantra is used for knowledge, education & creativity for students, businessmans, entrepreneurs, artist and people involved in creative activities. Concentration and memory power will increase. Only good thoughts will spring up their minds. For acquiring spiritual wisdom also the grace of goddess saraswati very essential.
Goddess Saraswathi Homam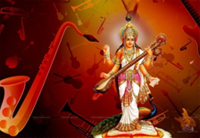 For knowledge empowerment, excelling in arts and creative fields and enhancing your communications skills
Saraswathi Homam, the revered and bountiful Vedic ritual, solicits the grace and blessings of Saraswathi Devi for learning efficiently and topping in academics, gaining proficiency in arts and skills and excelling in all your creative pursuits. Also, Saraswathi Homam has the special power to help you overcome speech impediments like stutter, lisping, etc.
It is believe that this Homam comes as a great boon for students as Saraswathi Devi has the power to sharpen your intellect, discerning sense and memory. Therefore, the student's ability to grasp and understand things are enhanced. Also, Saraswathi Homam has the potential to calm your mind, heighten your awareness and awaken your spiritual energies. This naturally improves the concentration of a student without him/her making any efforts.
To realise the power of knowledge, speech, creativity and other boons of Saraswathi Devi, performing Saraswathi Homam on Thursdays, Fridays and on Panchami thith is and Guru Horas are best recommended.
Goddess Saraswathi Pooja
Goddess Saraswathi Pooja - fulfill your desires.
Whether you seek to overcome speech impediments or wish to still a massive crowd with your influential speech, Saraswathi Pooja can fulfill your desires. Since Saraswathi Devi, as the goddess of speech and sound, resides on the tip of your tongue, She has this special grant to effectively enhance your communication skills. Therefore, Saraswathi Homam is a highly beneficial tool for politicians, orators, businessmen, celebrities and all those who want to touch the peak of their career/professional life.
Religious Mantra Writing

Saraswati Devi is synonymous with knowledge, arts and auspiciousness. Many times in life there are situations in which we experience blocks in studies and career. Such incidents often hamper our performance in examinations and jobs. Even if we prepare well and are confident, we may not be able to use the knowledge when it is most essential. Such problems may be due to the misappropriate position of the planet mercury / budha in your horoscope. Appeasing Devi Saraswati is highly beneficial in countering the planet mercury/budha and for removing such problems in education and career. The Saraswati Mantra below is a very powerful one and this mantra is performed in writing by such people and students. It is advised to start mantra on Wednesday.
"Om saum saraswathaye namah"