Bestow Prosperity in Life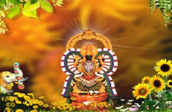 Sundara Maha Lakshmi is the Goddess of all wealth and treasures. This form of the Goddess is Aadhi Moola Lakshmi - the root form of all 64 Lakshmi avatars (each one governing one of the 64 forms of wealth, well being and prosperity). A true prosperity is not just the bank balance but the blessings with all the 64 aishwaryas. Kubera Sampath Shakti Temple and Goddess Sundara MahaLakshmi brims with billions of Kubera Shaktis, Aishwarya Shaktis, Sukra shaktis, treasure shaktis and prosperity shaktis. Mother Sundara Mahalakshmi sports six toes in Her right leg as she blesses us seated in the padmasana posture. Why six? Six is Sukra's number and Mother Lakshmi is Sukra's Divine Controller. The six toes of Mother Sundara MahaLakshmi constitute a concrete reminder to us that it is She who controls Shukra's power to bestow prosperity.

Shukra worships at this shrine every Friday without fail. What form he might assume is beyond human comprehension, but he is one of the visitors to this shrine every Friday. Siddhas says that A truly prosperous human is one who is blessed with 64 aiswaryas - 64 forms of wealth, well being and prosperity - each governed by a form of Mother Lakshmi, viz., Dhana lakshmi, Dhanya lakshmi, Vijaya lakshmi, Veera lakshmi, Dhairya lakshmi, Gaja lakshmi, Santhana lakshmi, Vidya Lakshmi, Mangala Lakshmi, Madhava Lakshmi, Bhagya Lakshmi, Senji (Senjula) Lakshmi, Soundarya Lakshmi, Vara Lakshmi, Yoga Lakshmi, Jyoti Lakshmi, Sethu Lakshmi, Sita Lakshmi, Maha Lakshmi and so on. (Recite these names as mantra pooja.) So anyone who desires all 64 aishwaryas must indeed worship Mother Sundara Mahalakshmi at this shrine,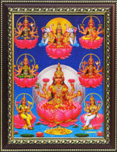 This is a perfect shrine for propitiating the navagrahas. Each of the nine Navagraha lords and their consorts worshipped Goddess Sundara Mahalakshmi at this shrine in nine different Lakshmi forms. Adi Lakshmi (Aditya or Soorya), Soma Lakshmi (when Mother Lakshmi appeared with Chandra), Mangala Lakshmi, Bhowmya Lakshmi (the root form of SriVidya Lakshmi), Gurupara Lakshmi, Shukra Lakshmi, Bhagya Lakshmi or Sumangali Vara Lakshmi (She who blesses a woman's husband with health and longevity).
Abishekam and Pooja
Make it a point to worship Mother Sundara Mahalakshmi at this temple on Fridays, especially during Sukra hora. Mother Lakshmi will bless one and all with solutions to money problems like poverty, debts, losses in business, court cases and other litigation problems.
Religious Mantra Writing

Writing mantras gives vital energy to our body and it is an powerful practice with us to increase our energy level. When we write the mantras, we are involving our self and energy level of the mantra sound in our mind and body along with good vibration. instead of chanting you can write the mantra i.e (writing along with chanting )and you can increase your energy level in your body and get your desires fulfill.
In you wish, you may also want to use the proxy writing service offered through our Nadiastroonline. This is an opportunity to receive results from the mantra practice and provide work for the person in India who will write the mantras on your behalf. You will both be benefited internally and materially.
Mother Sundara MahaLakshmi Divine Mantras (Mantra writing)
Om Sri Adi Lakshmi Roopini Sundara MahaLakshmi Namaha
Om Sri Soma Lakshmi Roopini Sundara MahaLakshmi Namaha
Om Sri Mangala Lakshmi Roopini Sundara MahaLakshmi Namaha
Om Sri Bhoumya Lakshmi Roopini Sundara MahaLakshmi Namaha
Om Sri Vidya Lakshmi Roopini Sundara MahaLakshmi Namaha
Om Sri Gurupara Lakshmi Roopini Sundara MahaLakshmi Namaha
Om Sri Shukra Lakshmi Roopini Sundara MahaLakshmi Namaha
Om Sri Bhagya Lakshmi Roopini Sundara MahaLakshmi Namaha
Om Sri Sumangali Vara Lakshmi Roopini Sundara MahaLakshmi Namaha
Om Sri Dhana Lakshmi Roopini Sundara MahaLakshmi Namaha
Om Sri Dhaanya Lakshmi Roopini Sundara MahaLakshmi Namaha
Om Sri Santana Lakshmi Roopini Sundara MahaLakshmi Namaha
Om Sri Dhairya Lakshmi Roopini Sundara MahaLakshmi Namaha
Om Sri Madhava Lakshmi Roopini Sundara MahaLakshmi Namaha
Om Sri Senjula Lakshmi Roopini Sundara MahaLakshmi Namaha
Om Sri Veera Lakshmi Roopini Sundara MahaLakshmi Namaha
Om Sri Yoga Lakshmi Roopini Sundara MahaLakshmi Namaha
Om Sri Griha Lakshmi Roopini Sundara MahaLakshmi Namaha
Om Sri Sowbhagya Lakshmi Roopini Sundara MahaLakshmi Namaha
Om Sri Gaja Lakshmi Roopini Sundara MahaLakshmi Namaha
Om Sri La Sri Shakti Roopini Sundara MahaLakshmi Namaha
Om Sri Vijaya Lakshmi Roopini Sundara MahaLakshmi Namaha
Om Sri Aishwarya Lakshmi Roopini Sundara MahaLakshmi Namaha
Om Sri Amruta Lakshmi Roopini Sundara MahaLakshmi Namaha