Vadivudai Amman Rituals/Pooja
Vadivudai Amman Rituals - Beauty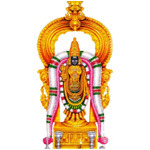 Lord Shiva is available in this temple in three main forms - formless, physical form, and also in an indescribable form. The goddess of the temple, Vadivudai Amman, is very powerful, and she is one of the three main goddesses.
Divine Goddess Shakti as Vadivudai Amman. Vadivudaiamman(Thirupurasundari) is a symbol of wisdom and energy faces south direction. It brings beauty elements in you. This pooja invokes the energy of Vadivudai Amman, the deity of beauty, to remove low self esteem and blesses you with a charming appearance. Fridays is considered as good day for performing this pooja.
It is believed that our prayers will be granted if we've 'darshan' of Vadivudai Amman, who won the grace of Aadhi Pureeswara through Her penance on Fridays. On paying obeisance to the 'kodimaram' one gets rid of the consequences of his/her sins committed in the previous 'jenma' and we get salvation on paying obeisance to Sri Thyagaraja, they say. Sri Vadivudai Amman will bless Her devotees with prosperity, longevity, good children and a good life-partner, the devotees believe. These beliefs had arisen from the verses of the numerous rishis and Nayanmars, who had sung the praises of this shrine. All the prayer requests are granted if we worship earnestly. Those, waiting for marriage would benefit by worshipping Vadivudai Amman on Fridays.
After performing this Pooja one will be blessed with a child, wealth, property, gain, and prosperity. Those who wish progeny, success in endeavors, worldly enjoyment and the final emancipation shall attain it by performing this Pooja/Rituals.