Tripura Sundari Rituals/Pooja
Tripura Sundari Rituals - Endorse beauty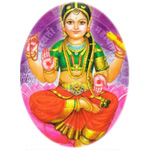 Goddess Tripura Sundari is dressed in grand attire, decorated with flowers and jewels and offered Prasad. She is called the beauty of three worlds. She is also worshiped in the form of Shodashi (16 years old) and Balasundari (Child form of devi). It has been said about her that her adorer get Bhoga (Materialistic Things) and Moksha (Salvation) in the same birth. Most of the deities either gives Bhoga or Moksha but Ma Tripursundari gives both. She is the goddess of wealth more superior than goddess Lakshmi. It has been said that by the blessings of tripurasundari, goddess Lakshmi is capable of providing wealth. If one did a great sadhana and good karma in previous births then only get a chance to do the sadhana of Shri Vidya in the current birth. Goddess Tripura Sundari, the beautiful form of Shakthi incarnated on the earth plane to bless the human race with the following:
Knowledge and wisdom in life
Enhancing your artistic skills
Blessing you with creativity and passion
Obstacle free life
Fertility and evergreen life
Natural and serene beauty
Peace, health and prosperity
If you perform this pooja, your life will seem clear and organized. Beauty and clarity will be your accreditations of life!
After performing the Pooja, we will send over the Prasad (vermillion/sacred ash). If you are able to attend the Pooja, you will be given the Prasad in person, or else this will be sent over to you. Please be informed that it might take 4-7 business days for your Prasad to reach you.