Srikalahasti Rituals/Pooja
Srikalahasti Rituals - Remove Rahu Ketu Dosha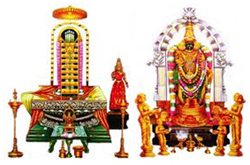 Srikalahasti Temple is one of the important ancient Shiva Temples of South India, situated in the holy town of Srikalahasti. Sri Kalahasti Temple is one of the Pancha Bhoota Stalams, enshrining one of the elemental Lingas, the Vayu (Air) Linga. This is the only shrine for the God of Wind in India. Here, God Vayu is incarnated as Lord Shiva and worshipped as Kalahasteeswara and his consort is Goddess Gnanaprasunambika (Goddess Parvati).
Sri Kalahasti Temple is renowned for performing Rahu Ketu Sarpadosha Nivarana Puja. This is a highly effective pooja conducted in the temple for persons who are affected by Rahu Ketu doshas, Grahadoshas, and people who are unmarried and childless, perform this puja to remove such doshas. Rahu Kethu Sarpadosha Nivarana Pooja is conducted daily from 6.00 AM to 8.30 PM in batches. There is a small underground temple dedicated to Lord Ganesh, called Patala Ganapati, located in the temple complex.
The Shivalinga inside the sanctum is white and is considered Swayambhu, or self-manifested. It has a plinth and is seen in the shape of the trunk of an elephant with tusks on either side or like that of the spider at the bottom. When seen from the top, the Shiva Linga looks like that of a snake with five hoods. The lamp inside the inner sanctum continuously sparkles, even without the air movement inside. The main Sivalinga of Sri Kalahasti Temple is not touched by human hands, even by the priests. A mixture of water, milk, camphor, and Panchamrita is used for Abhishekam. The statue of Goddess Gnana Prasunambika Devi- the flower of divine knowledge, assumes great importance here, as this is considered one the 108 Shakti Peethas of Goddess Shakti. It is said that the skull fell here at Srikalahasti Temple. According to the legends, the Goddess is a representation of Santana Lakshmi.
After performing this Pooja one will be blessed with a child, wealth, property, gain, and prosperity. Those who wish progeny, success in endeavors, worldly enjoyment and the final emancipation shall attain it by performing this Pooja/Rituals.