Santana Gopala Rituals/Pooja
Santana Gopala Rituals - Beget the Blessing of Children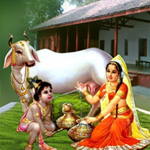 Santana Gopala Puja, or Santana Gopala Homam, is dedicated to Krishna. Couples who are longing for a child for long, will be blessed with the fertility and blessing to have children and a contended life that follows. Children are nature's gift for the happiness of a family. When a native is devoid of a child, the life becomes hell. The peace of mind in spite of having all comforts of life or otherwise becomes upset if there is no child or any issue out of the couple. This Pooja/Rituals is a boon If there are obstacles or delay in progeny and some complications/obstacles arises during pregnancy. Parents perform it for the welfare of the children. Santana Gopalam Pooja is performed for childless couple , who wish to have a child. This Puja is performed on your behalf, to beget a child. Those who are expecting, shall also perform this Puja for healthy and intelligent child.
Lord Santana Gopala, an incarnation of Lord Vishnu, incarnated on the earth plane, to bless his deserving devotees with the following:
The blessing of children for couple who are yearning for a child for long
Peaceful life with your partner
Happy and contented family with the asset of children and other assets and
Peace, health and prosperity
This puja is performed not just to beget a child but also for expecting parents to have a healthy and an intellectual child. In this Puja, Lord Vishnu as Gopala Krishna is worshiped with tulasi leaves and is performed by employing Santhana Gopala Mantra. The Santan Gopal Puja could be performed on any day of the week but Wednesday is considered auspicious by many people.
After performing this Pooja one will be blessed with a child, wealth, property, gain, and prosperity. Those who wish progeny, success in endeavors, worldly enjoyment and the final emancipation shall attain it by performing this Pooja/Rituals.