Natarajar Rituals/Pooja
Natarajar Rituals - Dance and Music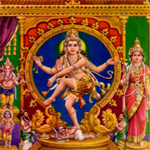 The symbolism of Siva Nataraja is religion, art and science merged as one. In God's endless dance of creation, preservation, destruction, and paired graces is hidden a deep understanding of our universe. Aum Namah Sivaya.
To fulfill his complementing roles, Shiva holds various attributes. Here are the symbolism and meaning hidden in the Nataraja Idol -
Upper Right Hand: In his upper right hand Shiva holds the damaru - a small drum shaped like an hourglass. It symbolizes the sound that originates creation and perpetuates the universe.
Upper Left Hand: The upper left hand contains Agni or fire, which signifies final destruction, the dissolution of form, out of which a new world will arise.
Below Right Hand: The second right hand shows the Abhaya mudra (meaning fearlessness in Sanskrit), giving freedom from fear and bestowing protection from both evil and ignorance.
The Below Left Hand: The second left hand points towards the raised foot which signifies upliftment and salvation. It also follows the form of an elephant trunk, alluding to wisdom.
The Dwarf on which Shiva Dances: The dwarf on which Nataraja dances is the demon Apasmara, symbolizing Shiva's victory over ignorance, which can never be completely eliminated, but it can be overcome.
Flame: The surrounding flames represent the manifest Universe.
Snake Around Waist: The snake swirling around his waist is kundalini, the Shakti or divine force thought to reside within everything. His dance is so vigorous that his hair, usually in matted locks piled on his head, becomes loose and flies about him.
Ganga on Hair: Seated within his hair is the diminutive figure of Mother Ganga, the river goddess, with her hands folded. When the river descended from heaven to earth, Shiva broke its fall with his hair, thereby keeping the earth from being crushed by its force.
Face of Shiva: As he dances the world in and out of existence, Shiva maintains a stoic face, representing his neutrality of being in complete balance.The all-devouring form looming above is Mahakala, "Great Time." The cobra around Nataraja's waist is kundalini shakti, the soul-impelling cosmic power resident within all.
Nataraja's dance is not just a symbol. It is taking place within each of us, at the atomic level, this very moment. The Agamas proclaim, "The birth of the world, its maintenance, its destruction, the soul's obscuration and liberation are the five acts of His dance."
Nataraja dances above the body of the demon, Apasmara, whom he has killed; in this role he is called Natesa. Apasmara, the dwarf demon, represents the ignorance of teaching that all opposites (for example good and evil) are false.
After performing this Pooja one will be blessed with a child, wealth, property, gain, and prosperity. Those who wish progeny, success in endeavors, worldly enjoyment and the final emancipation shall attain it by performing this Pooja/Rituals.