Muruga Rituals/Pooja
Muruga Rituals - Destroy the enemies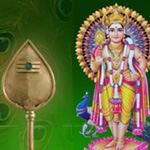 The Aru Padai Veedukal or Six Holy Abodes (literally: 'battle camps') of Murugan as declared by the Tamil poet Nakīrar in his late Sangam period classic of Murugan devotion Tirumurugārrupatai are:
Tirupparamkundram
Tiruchendur
Tiruvavinankudi (Palani)
Tiruverakam (Swami Malai)
Kundruthoradal (Tiruttani and several other hills) and
Palamutircolai.
Lord Murugan abundantly blesses devotees who worship at these holy places:
Lord Muruga - called by various favourite names like Karthilkeya, Arumuga, Shanmuga, Guhan, Skanda, Subramanya and Kumara - by his ardent devotees - is a Hindu god. He is considered to be the son of Lord Shiva - the Hindu God of distruction and the brother of Lord Ganesh - the most famous elephant headed god of India. Then special emphasis on the arupadai veedu group of shrines. It includes specific details like location, legends, purana, mythology, places to stay, festivals, on these six most famous temples of Lord Muruga - called Aru padai veedu.
Thiruparamkundram: It's one of the Six Abodes of Lord Muruga ,god of Tamil.This is the place where he wedded Goddess Deivanai,as a reward of being destroyed the asuran (Demon) Padmasuran, and his cruel brothers. Thiruparamkundram called "Alagar nagar"
Thiruchendur: Lord Murugan came to Thiruchendur with group and pursued war against Soorapadman which lasted for ten days. On defeating the demon, the Lord converted Soorapadma into a peacock and a cock. The peacock or Mayil became the vehicle of Lord Murugan and therefore He is also called Mayilvahanan. Seval or cock adorned his flag. As a result of the victory, Lord Brahaspati, Lord Indra, Lord Brahma, Lord Vishnu and all the Devas worshipped him nine times (Nava Kala Pooja). Lord Murugan in turn worshipped Lord Shiva in the form Sivalinga.
Palani: Palani has been mentioned in Tamil Sangam literature as "Podhini", which came to be called as Palani later. This temple is one among the six Padaiveedus (abode) of Lord Muruga.that is the third Padaiveedu namely Arulmigu Thiruvaavinankudi temple which is one of the subtemples of this temple. Many "Siddhas" are said to have lived in this region. The idol of Palani Andavar is said to have been made of "Navapashanam" by Siddhar Bogar. 38 sub-temples are attached with this temple. As per the historical records the main Deity Arulmigu Palaniandavar idol is consisted of Navapashanam, ie a combination of 9 poisonous herbals mixed in a proportion to give a high medicinal power to cure the diseases of immunity and it was designed and made up by a siddar named Bohar.
Swamimalai: Swamimalai means 'God's Mountain'. It is one of the Arupadaiveedu, believed to be the six main abodes of Muruga. Lord Murugan is the parihara deity for Rahu dosham and Sevvai dosham. Hence, this temple is of great significance for all those who suffer from the ill effects of Rahu. Offer worship at this ancient shrine of Lord Murugan and receive his divine grace in abundance.
Thiruthani: Tiruttani is one of the six abodes of Lord Subramanya and is situated in Tiruvallur district. Tiruttani is the Fifth Padai Veedu of Lord Muruga. Three Hundred and Sixty five Steps lead to the shrine, each step representing a day of the year. Lord murugan fiercely fight with Surapadma at Tiruchendur, the anger of muruga wanted to reduce his anger. He reached Tiruttani Hill to reduce his anger, that is why Tiruttani is called as Thanigai malai.
Pazhamudhircholai: Murugan is worshiped along with his companions Valli as Iccha Shakti and Devayani as Kriya Shakti and he himself is worshiped as Jnana Shakti. The idol of the lord in the standing posture with a single face and four hands is kept between the statues of his consorts. The Vel of the lord made up of stone is of special significance and is worshipped with a great veneration by devotees. In the temple premise, there is a rose apple tree (sthala vriksha) and the fruits of the tree will ripe only during Skanda Sashti festival.
By performing the pooja one will be free from all pain, diseases, enemies and Lord muruga protect them and secure from all dangerous.
After performing the Pooja, we will send over the Prasad (vermillion/sacred ash). If you are able to attend the Pooja, you will be given the Prasad in person, or else this will be sent over to you. Please be informed that it might take 4-7 business days for your Prasad to reach you. Please Participate Now and don't miss his blessings.