Meenakshi Sundareswar Rituals/Pooja
Meenakshi Sundareswar Rituals (Madurai)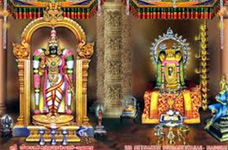 Meenakshi Sundareswar Temple is dedicated to Sundareswar (form of Lord Shiva) and Meenakshi (form of Goddess Parvati). The term "Sundareswar" suggests "the beautiful lord" and "Meenakshi" means "the fish-eyed goddess".
Meenakshi Temple is regarded as one of the most sacred places of Parvati, other being Kamakshi at Kanchipuram, Akilandeswari at Thiruvanaikaval and Vishalakshi at Varanasi. At the center of the sanctum sanctorum, the shrine of Shiva embraces the site. It is a famous image of Nataraja (Dancing form of Lord Shiva) on a massive silver altar. The shrine is also known as Velli Ambalam (Silver abode). In the proximity, there is a shrine dedicated to Lord Ganesha. Known as Mukuruny Vinayakar, the temple adores the idol that was found during the excavation made in Temple Lake. On the left side of Shiva, the shrine of Goddess Meenakshi appears enchanting with quite less ornamentation. In the temple, Potramarai Kulam is a consecrated pond where devotees go around before entering the main shrine. The term "Potramarai Kulam" suggests "the pond with a golden lily". It is said that Lord Shiva blessed this pond and acclaimed that no marine life would grow in it. In the Tamil folklore, the pond is believed to be an evaluator for reviewing the worth of a new literature.
If you perform this pooja, you will be blessed with material and food and water comforts that you sincerely ask for!
After performing the Pooja, we will send over the Prasad (vermillion/sacred ash). If you are able to attend the Pooja, you will be given the Prasad in person, or else this will be sent over to you. Please be informed that it might take 4-7 business days for your Prasad to reach you.