Lakshmi Rituals/Pooja
Lakshmi Rituals - Wealth and treasures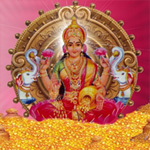 Goddess Lakshmi, the consort of Lord Vishnu, is the financial authority in the divine world. The word 'Lakshmi' is derived from the Sanskrit word "Laksya", meaning 'aim' or 'goal', and she is the goddess of wealth and prosperity, both material and spiritual. Goddess Lakshmi means Good Luck. She is the goddess of prosperity, wealth, purity, generosity, and the embodiment of beauty, grace and charm.
Goddess Lakshmi, the divine authoritative for material and financial comforts is decorated in grand attire with jewels and dress. She is offered many Indian delicacies as Prasad and then appeased with her most favorite mantras and slokas written and composed for her. Depending on the sincere prayers and devotion of her devotees, she blesses them with the following:
Financial gains
Extra income of finances
Sound finance and very wealthy assets
Material and financial comfort
Closure of long pending debts and
Peace, health and prosperity
If you perform this pooja, you will be blessed with material and financial comforts that you sincerely ask for! Long pending debts will be at your closure with the blessings of Goddess Lakshmi!
After performing the Pooja, we will send over the Prasad (vermillion/sacred ash). If you are able to attend the Pooja, you will be given the Prasad in person, or else this will be sent over to you. Please be informed that it might take 4-7 business days for your Prasad to reach you.