Kalabhairava Rituals/Pooja
Kalabhairava Rituals - Control Time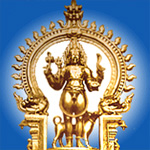 Kala Bhairava blesses you with the power of controlling the factor called time and incidents that take place in your life. Were Kal means 'time' and 'Bhairava' the manifestation of Shiva. The vahana (vehicle) of Lord Kaala Bhairava is the dog. Kala Bhairava also called the keeper of time is the lord who controls the time and incidents that take place in the human's life. The divine Kala Bhairava stands for Kala—the time period and Bhairava, the keeper of time. You will attain the sheer power to control the time and the incidents that take place in your life with the blessings of Kala Bhairava. He blesses you with the divine power of predicting things that are to happen and to avoid mishaps by controlling time!
There are eight types of Bhairavas and they are called ashta Bhairavas. They are Asithanga Bhairavar, Ruru Bhairavar, Chanda Bhairavar, Krodha Bhairavar, Unmatta Bhairavar, Kapala Bhairavar, Bhishana Bhairavar and Samhara Bhairavar. Apart from these eight forms there is yet another form called Swarna akarshana Bahiravar.
Maha Bhairavar is said to be Shiva himself. The Swarna akarshana Bhairavar has red complexion and clothed in golden dress. He has moon in his head. He has four hands. In one of the hands he carries a golden vessel. He gives wealth and prosperity. Worshipping Bairavar - It is believed that one who perform the abishekam and light a lamp with 5mixed oil and worships this Bairavar on Ashtami Thithi will be freed from all debts and loans and will not be affected by any black magic.
After performing the Pooja, we will send over the Prasad (vermillion/sacred ash). If you are able to attend the Pooja, you will be given the Prasad in person, or else this will be sent over to you. Please be informed that it might take 4-7 business days for your Prasad to reach you.