Jambukeswarar Rituals/Pooja
Jambukeswarar Rituals - Water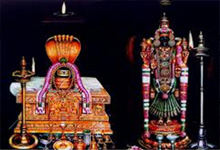 Once Parvati mocked Shiva's penance for betterment of the world. Shiva wanted to condemn her act and directed her to go to the earth from Kailasam (Shiva's abode) to do penance. Parvathi in the form of Akilandeswari as per Shiva's wish found Jambu forest (Thiruvanaikoil) to conduct her penance. She made a lingam out of water of riverCauvery (also called as river Ponni) under the Venn Naaval tree (the Venn Naaval tree on top of the saint Jambu) and commenced her worship. The lingam is known as Appu Lingam (Water Lingam). Siva at last gave darshan to Akilandeswari and taught her Siva Gnana. Akilandeswari took Upadesa (lessons) facing East from Shiva, who stood facing west.
Mother Ambica was born as a human as directed by Lord Shiva. She made a Shiva Linga with the waters of River Cauvery. Lord appeared on the Linga and granted darshan to Mother. This is a miracle place. Of the Pancha Bhudas, the place became Appu sthala-water sthala. Shiva is said to have manifested himself in the form of water (Appu Lingam).
A sage Jambu by name performed penance in this place on Lord Shiva. Lord granted darshan to the sage and offered Naaval fruit (called blackberry) as Prasad. While consuming the Prasad, the sage swallowed the seeds too as he thought it a sin to spit the seeds. Reaching the stomach of the Rishi, the seeds began to grow into a tree and pierced his head thus leading to his salvation. Naaval is called Jambu in Sanskrit. The Water Linga created by Mother Ambica is under this tree. As Lord granted salvation to Sage Jambu, He is praised as Jambukeswarar.
It is believed that people who go round the sannathy (which is in the shape of "Om") 12 times and for one full mandala (48 days) will get the blessings of the goddess Akilandeshwari and have a good, healthy and wealthy life. It is believed that the Amman in the temple was in deep anger hence during one of Adi Sankara's visit he installed the Prasanna Ganapathy idol right opposite to her Sannathy and installed a pair of Sri Chakra thaatankas (ear-rings) to reduce her anger.
After performing this Pooja one will be blessed with a child, wealth, property, gain, and prosperity. Those who wish progeny, success in endeavors, worldly enjoyment and the final emancipation shall attain it by performing this Pooja /Rituals.