Hanuman Rituals
Hanuman Rituals - Get rid of all negative energies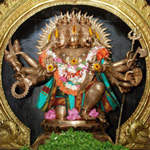 Lord Hanuman is the only deity that cannot be troubled by negative energies. Lord Hanuman, the most pious devotee and follower of Lord Rama in the eternal world is believed to be the ever existing protector for the human race. When approached humbly and deep heartedly he can make your life the most cherishable one ever. All your health struggles and life problems will come to an end if you pray to him and invoke his presence in your living space. He can also keep you away from the evil eye casting issues and other evil powers that approach you-he is very powerful in his form!
Hanuman, also known as Anjaneya or Maruti is said to be the divine body guard and most pious devotee of Rama. He has a power to solve all your problems if you let him know that you confide in him for all your problems of life! This divine protector can keep away every hassle from your way, making your life a cake walk!
He was born of the absolute air element (vayutattva). Sri Anjaneya (Hanuman) is found in such a position that he is stamping his leg on Sani bhagavan. And it is said that by performing the puja in the temple, can get rid of Sani Dosham. Therefore on the days of His worship(Saturday), especially people affected by negative energy worship Him by offering oil and vermilion. To prevent being affected by negative energies and to have self confident one should carry fresh, unused oil from home for ritualistic worship at Lord Hanuman's temple.
If you perform this pooja, you will be blessed with these powerful radiations of Lord Hanuman who can wade away your problems once and for all!
After performing the Pooja, we will send over the Prasad (vermillion/sacred ash). If you are able to attend the Pooja, you will be given the Prasad in person, or else this will be sent over to you. Please be informed that it might take 4-7 business days for your Prasad to reach you.