Ganesh Rituals/Pooja
Ganesh Rituals - Removes the obstacles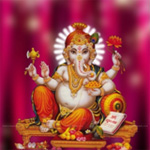 Lord Ganapathi, the most famous, divine Lord whose presence is always felt by his devotees. He is said to love simple attire and loads of devotion. It is said that Lord Ganapathi gets appeased when he is called over with a lot of devotion emotionally by his devotees and grants them the blessing of life! Japas or mantras are recited accordingly for each pooja by a sacred group of priests who are authenticated, devoted and sincere. It is essential that a Japam (mantra) is spelled rightly for the right effect. And, our group of expert priests makes sure that they perform the pooja in the authentic and traditional way with the right syllable for the right effect!
As all of know very well that Lord Ganapathi, the beginner and ruler of every incident in this world, revealed his divine presence to the world to bless his devotees with the following:
A struggle free beginning and ending of your endeavors
Blessing you with peace and happiness
Blessing you with everything you ask for
Keeping you away from the ill effects caused by unfavorable planets
Health, wealth and prosperity
By performing this pooja, you will be blessed with a struggle free future and all positive things you ask for in life. All your spiritual and material benefits will be accomplished and granted by Lord Ganapathi himself. You are also bound to erase all negative effects from unfavorable planets and glide through your life like a cakewalk! Lord Ganesha favorite food is Laddu and other Indian food also.
After performing the Pooja, we will send over the Prasad (vermillion/sacred ash). If you are able to attend the Pooja, you will be given the Prasad in person, or else this will be sent over to you. Please be informed that it might take 4-7 business days for your Prasad to reach you. Please Participate Now and don't miss his blessings.