Ekambaranathar Rituals/Pooja
Ekambaranathar Rituals - Earth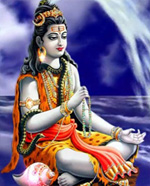 Ekambaranathar temple is the famous temple which is situated in this holy town of Kancheepuram, one of the Panch Bootha Sthalangal of God Shiva.
The Sthala Purana says that when Lord Shiva was deeply immersed in the task of creating, protecting and destroying the Universe, Parvati, his consort, in a jocular mood, closed his eyes. This resulted in staying the process of creation and destruction as well as obstruction to the natural law of things. It was a serious matter and Shiva became angry and cursed Parvati to go to the Earth and expiate her misdeed. Accordingly Parvati came to the banks of the river Kampa under a single mango tree at Kanchi and made a Shivalinga out of sand and worshipped it. To test her sincerity Shiva placed various obstacles and hindrances in the way of Parvati`s penance. But with the help of Lord Vishnu she could tide over all the difficulties. At last Shiva hurled a deluge by taking out the River Ganges from his matted hair, to wash away the Linga worshipped by Parvati. She clasped it with all veneration to her breasts and this pleased Shiva who took her again as his consort.At Ekambaranatha Temple, Shiva is worshipped in the form of Shivalingam and here the Lingam is the element earth. The Shiva Lingam here is believed to have been created by Goddess Parvati from sand or earth. Six worship services are offered in the temple of Sri Ekambareshwar Temple every day. They are known as "UshadKalam", "Kaalasanthi", "Uchi Kaalam", "Pradosham", "Sayaratchai" and "Ardhajamam".
Here Goddess Parvati worshipped Lord Siva in the form of Prithvi Linga near the river Vegavathi. The river overflowed and was threatened to cover completely the Shiva Linga and Parvathi embraced the Siva Lingam and thus the Ekambareswarar was to be known as "Tazhuva kuzhainthaar" which means "He who melted in Her embrace". Below are the pictures of the famous Ekambareswarar Temple.
After performing this Pooja one will be blessed with a child, wealth, property, gain, and prosperity. Those who wish progeny, success in endeavors, worldly enjoyment and the final emancipation shall attain it by performing this Pooja /Rituals.