Ashtalakshmi Rituals/Pooja
Ashtalakshmi Rituals - Wealth and prosperity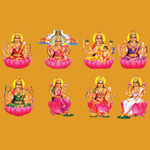 Ashtalakshmi is a famous temple that the eight forms of Mahalakshmi and hence called Ashtalakshmi. The word Lakshmi is derived from the Sanskrit word Laksme, meaning goal. Ashtalakshmi, therefore, represents the goal of life, which includes worldly as well as spiritual prosperity. Mahavishnu and his consort Mahalakshmi are the main deities in the Ashtalakshmi temple. Lord in the form of Srinivasa and Goddess Padmavathy are the festival deities worshipped here. In Hindu mythology, Goddess Ashtalakshmi, also called Shri, is the divine spouse of Lord Vishnu and the Goddess of wealth and fortune. The eight forms of Lakshmi in the temple are Dhana Lakshmi, Vidya Lakshmi, Dhanya Lakshmi, Veera Lakshmi, Sowbhagya Lakshmi, Santhan Lakshmi, Karunya Lakshmi and Mahalakshmi. The Goddess Andal is also there. Apart from the above stated forms of Mahalakshmi, there are other forms also found here which include Adhilakshmi, Dhanalakshmi and Vijayalakshmi. The physical appearance of the temple is itself extremely beautiful and glorious.
Ashtalakshmi Pooja is performed with the aim of attaining eight earthly form of wealth-namely; money, food, courage, education, success, progeny, luck and strength.This Pooja can be done on Fridays, and on Panchami, Pournami and Amavasya Tithis. It can also be done in any auspicious Hora.
After performing the Pooja, we will send over the Prasad (vermillion/sacred ash). If you are able to attend the Pooja, you will be given the Prasad in person, or else this will be sent over to you. Please be informed that it might take 4-7 business days for your Prasad to reach you.