Annamalaiyar Rituals/Pooja
Annamalaiyar Rituals - Fire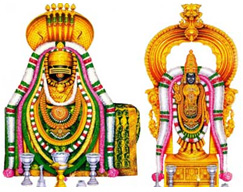 The Annamalai Hill was Agni (fire) during Kirthayugam, was Manikkam (Emerad) during Threthayugam, was Pon (Gold) during Dwaparayugam and rock during Kaliyugam. There are eight lingams located at the eight directions and provides an octagonal structure to Thiruvannamalai Town. The eight lingams are: Indra Lingam, Agni Lingam, Yama Lingam, Niruthi Lingam, Varuna Lingam, Vayu Lingam, Kubera Lingam and Esanya Lingam. The Adi Annamalai Temple glorified in Dhevaram is located on this path.
People who suffer from stomach related ailments, worship Lord Vinayagar residing in the outer sannidhi and get cured of their disease.
Those who have huge debts, worship goddess Anandavalli for six weeks by lighting a deepam with lemon shell, will get their debts cleared.
Lord Brihaspathi(Guru) present in the outer sannidhi, when worshipped every Thursday by lighting a ghee deepam, facilitates timely marriage, when there are marriage obstacles.
The holy Annamalai Hill is the manifestation of Lord Shiva who arose as the column of fire to crush the ego of Brahma and Vishnu and later stood still as the Hill of Arunachala for the world to worship. A Holy beacon is lit atop the Hill on Karthikai Deepam day commemorating the aforesaid event. The significance of Annamalai Hill and the circumambulation of the Hill was narrated to Parvati by Sage Gautama what He had learnt from Lord Shiva.
After performing this Pooja one will be blessed with a child, wealth, property, gain, and prosperity. Those who wish progeny, success in endeavors, worldly enjoyment and the final emancipation shall attain it by performing this Pooja /Rituals.