Aquarius †Horoscope - 2015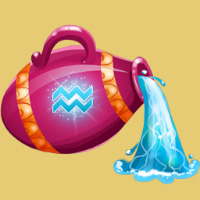 The year 2013 is all set to bring a pivotal shift in Aquarius people's life. Hence you should remain flexible and embrace these winds of change. Career change/s, relocation, transfers, domestic issues leading to some changes and marked change/s in the lifestyle can be expected this year. You may be nostalgic about your past days. You should not invest money anywhere, without an expert advise. Speculation of any kind must be avoided this year. You will need to be careful about people with vested interests. You should cultivate a habit of spending more time with yourself and knowing yourself more deeply.
Aquarius Home and Domestic Life
Change is inevitable in your domestic life. You may need to change some of your set ways and habits. You may become more actively engaged and cautious about home and family matters. Those of you who are looking for relocation or change in residence/office during this year shall find this time favourable. There may be changes in family structures and bonds too. You should strive to maintain appropriate balance between professional and personal life.
Aquarius Love Life
New relationships and friendships are foreseen for Aquarius people this year. Love is in the air. You will be very sincere and loyal towards your partner. If you have just recently started a relationship, time is not ripe to take it to the next level and think of marriage. On the other hand, its the right time to evaluate your relationship. Committed relationships shall get strengthened this year. Married couples need to be more flexible and understanding with each other.
Aquarius Health
Aquarius people shall stay healthy this year till the time they don't let their mind be overpowered or overwhelmed by negative thoughts. You may have some minor ailments bothering you. Ones already suffering from cardiovascular and chronic diseases will need to be careful throughout the year. Aquarius people should take care of their sensitive spots including their back, posture, chest and throat along with their diet and fitness.
Aquarius Career and Finance
On the career front, things shall be more active than usual. Your ambition shall make you extremely focused at work. Consequently, you may ruffle quite a feather due to this and may get into tussles with your superiors and co workers. You may get some lucrative opportunities, but they will take their own time to get matured. Those willing to work abroad will have stars in their favor, especially in the second half of the year. Business prospects may not be very encouraging. Don't take a big project, unless you are sure that you can handle it and deliver the goods. Remain careful while investing for business.
Tips
When the winds of change blow, its better to bend and to adjust rather than to get uprooted. Hence you should be flexible in your approach too. There is no need to go all out and please people, this may harm you as one can't make everyone happy at the same time.
Please note that the given predictions are meant to provide you a general, Sun-Sign based overview. You can also unravel the mysteries hidden in your Birth Horoscope, and get practical remedies to soothe your life, love, career, business and more with one of our very Special 2013 Reports.