Vadivudai Amman Fire Rituals
Vadivudai Amman Fire Rituals - Will power, desire and action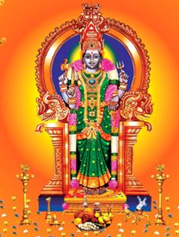 Divine Goddess Shakti as Vadivudai Amman. Vadivudaiamman (Thirupurasundari) is a symbol of wisdom and energy. Faces south direction. It brings beauty elements in you. This Homa invokes the energy of Vadivudai Amman, the deity of beauty, to remove low self esteem and blesses you with a charming appearance. Fridays is considered as good day for performing this homa.
Vadivudai Amman, the goddess of the temple, is considered as Gnana Shakti. She is considered as one of the three main Goddesses. This homam should be done at the auspicious Moon or Venus Horas.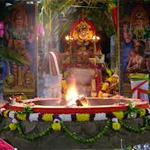 The whole world is under the influence of Ichcha Shakti, Kriya Shakti and Gnana Shakti. Every human has these 3 powers. Ichcha Shakti is the will power, the power of desire or motivation which relates to the Mind. Kriya Shakti is the power of action, the ability to act for the fulfillment of the desire that relates to physical body and Gnana Shakti Represents the power of knowledge, the capacity to know and recognize, which relates to the soul (Athma). That is why it is said, human beings are not one person, but three -the one you think you are (physical body), the one others think you are (mental body) and the one you really are (principle of the Athma). Everyone is essentially divine, but is unable to understand this.
We Nadi Astro online would help you perform Vadivudai Amman Homam. This Fire Rituals will be performed at Authorized Temple Only. You can attend this homan directly at temple upon our confirmation and receive the energy and blessing directly from Almighty.
If Fire Rituals is performed as Proxy then You will receive the prasad and CD for the ordered fire rituals.