Sundra Maha Lakshmi Fire Rituals
Sundra Maha Lakshmi Fire Rituals - Wealth, knowledge and strength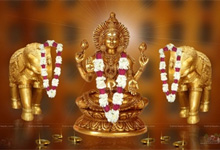 Sundra Maha Lakshmi Homam enables you to gain material prosperity, legitimate wealth and opulence, overcome financial crisis, find suitable life partner and lead a peaceful and happy married life. This most popular and highly beneficial Vedic ritual solicits the favor and blessing of Sundra Maha Lakshmi Devi to fulfill all your rightful desires.
Sundra Maha Lakshmi Devi, the consort of Maha Vishnu, is the Supreme Goddess of wealth, prosperity and good fortune and the embodiment of beauty, grace and charm. Residing in the heart of Maha Vishnu Himself, She looks after the needs and welfare of the devotees like a mother looks after her child. Sundra Maha Lakshmi Devi, as her name denotes, helps you achieve the goal of your life. As Lakshmi Devi is the active energy of Maha Vishnu, worshipping Her bestows you the blessings and grace of Maha Vishnu too. If you get bogged down because of heavy debts or want to make fortunes that stay with you, performing Sundra Maha Lakshmi Homam will be greatly rewarding. Since it favours you with many new opportunities and possibilities which will increase the flow of money. And most importantly, the fortune you make shall stay with you as the benedictions of Sundra Maha Lakshmi Devi are safely guarded by the supreme god, Maha Vishnu Himself.
In India, the material aspect of life-be it seeking wealth, pleasure or fame-has never been ignored or overlooked. That's why there are so many spiritual tools and techniques available to achieve them through rightful means. Mahalakshmi Homam is one such powerful tool that shall empower you to lead a materially successful life by copiously blessing you with wealth and riches.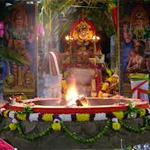 Conducting Sundra Maha lakshmi Homam will help overcome poverty and lead a financially stable life. When Adi Sankaracharya, the great sage, sang twenty one hymns(Kanagadara Stotram) in praise of Mother Lakshmi to drive away the poverty of a poor woman, the Goddess immediately granted his wish by showering a rain of golden amalas(gooseberry). Such is the mercy of Lakshmi Devi.
Sundra Maha Lakshmi Devi and Maha Vishnu help you lead a balanced life by endowing both spiritual growth and material prosperity. Therefore, Mahalakshmi Homam ensures you to enjoy marital bliss, restores peace between husband and wife and grants unlimited happiness. In Tamil Nadu, when you seek the blessings of elderly people, they say: "Pathinaarum Pettru Peru Valhvu Valzgha." Meaning: May you be blessed with all the 16 types of wealth. These can be obtained by performing Mahalakshmi Homam as Lakshmi Devi takes Her eight primordial forms to confer these 16 types of wealth, namely: Victory, Fame, Valour, Knowledge, Progeny, Bliss, Vision, Intelligence, Morality, Beauty, Food Grains, Gold, land, Health, long life and Wisdom.
As Sundra Maha Lakshmi Devi is the presiding Goddess of planet Venus, Fridays are considered to be most auspicious to perform Sundra Maha Lakshmi fire rituals. Also, conducting this homam on the month of Shravan and full moon days is very beneficial.
To yield all the goodness of Sundra Maha Lakshmi Homam, We Nadi Astro online would help you in performing Sundra Maha Lakshmi Homam and that all your desires, wishes and needs shall be fulfilled.
This Fire Rituals will be performed at Authorized Temple Only. You can attend this homan directly at temple upon our confirmation and receive the energy and blessing directly from Almighty.
If Fire Rituals is performed as Proxy then You will receive the prasad and CD for the ordered fire rituals.