Sudharshana Fire Rituals
Sudharshana Fire Rituals- For destroying enemies, healing health diseases and preventing accidents.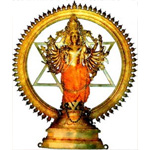 Sudarsana Homam is removal of all enemies & avoiding accidents, The desires of human beings are innumerable and they vary in nature. Sudarsana Homam is a very powerful Homam which fulfills your Desires, removes all kind of Poverty and brings Health, wealth, peace and Prosperity. Lord Sudharshana, the chief deity of this Homam, to destroy your enemies, protect you from sorcery and evil spells, heal serious health disorders and prevent you from accidents and injuries.
Lord Sudharshana is none other than the divine manifestation of the extremely popular and unconquerable weapon, Sudharshana Chakram wielded by Maha Vishnu, the Supreme Lord, to demolish evil and establish righteousness. Since Sudharshana Chakram is the powerful weapon of Maha Vishnu Himself, Sudharshana Homam helps you conquer all your known and unknown enemies who hinder your growth and success.
When you become successful and prosper well in life, many people may try to overthrow you through cowardly means like pilli, soonyam, yeval(sorcery, voodoo) and other evil spells. Sudharshana Homam prevents you from such evil forces and also annihilates them and acts as a protective shield in future. Therefore, Maha Sudharshana Homam is highly recommended to politicians, celebrities, criminal advocates, businessmen and all those who lead a public life and have to deal with strong hostility.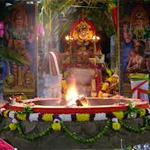 It is a powerful Homam that removes all obstacles and Blockages on your Path and makes you successful in your mission and also it removes your worries and grant you happiness. The Powerful Homam of Lord Sudarshan remove all your enemies and gives you a protection in all fronts.
The constantly revolving nature of Sudharshana Chakram makes it unconquerable and powerful enough to heal severe health problems in no time. Once when a village was struck by an epidemic disease, Swami Desikan sought the grace and blessings of Lord Sudharshana by composing Sudharshana Ashtakam. Soon after he finished composing it, the people of the village were completely relieved and healed from the contagious disease.
When Sudharshana Chakram is invoked, it activates the spiritual energies in your body and creates tremendous positives vibrations. Hence, performing Maha Sudharshana Homam heals you from severe diseases, injuries and health ailments and empowers you with renewed vigour and high spiritual energy. This will naturally speed up your materialistic growth and prosperity. Also, Maha Sudharshana Homam creates a protective shield around you to prevent you from accidents and injuries.
Sudharashana Homam is ideal for both sick persons as well as sportspersons. For the former, Sudharshana Chakram ensures speedy recovery and good health, whereas for the latter it grants vitality and strength, prevents injuries and ensures victory.
Sudharshana Homam serves highly beneficial and effective when performed on the days special to Maha Vishnu. So Ekadasi, Dwadasi, and even Pournami (full moon) days, which come on Wednesday or Saturday is best recommended.
Moreover, performing one Sudharshana Homam is equivalent of conducting ten homams dedicated to other demi-gods. Such powerful Sudharshana Homam should be conducted with purity of thought, proper intonation and right pronunciation
We Nadi Astro online would help you perform Sudharshana Homam and sought for reaping the maximum benefits and goodness of Sudharshana Chakram.
This fire rituals will be performed at authorized temple only. You can attend this homan directly at temple upon our confirmation and receive the energy and blessing directly from Almighty.
If Fire Rituals is performed as Proxy then You will receive the prasad and CD for the ordered fire rituals.