Pratyangira Fire Rituals
Pratyangira Fire Rituals - Enemy action and to gain success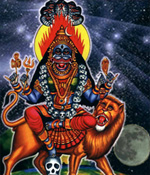 Devi Pratyangira is the Goddess associated with eternal energy. She is manifest with a lion's face and a human body.She is said to be a very protective goddess who protects her devotees like a Mother. This combination of lion and human forms is said to represent the balance of good and evil. The Devi is seated on a chariot, pulled by four Lions, Devi Lakshmi and Devi Saraswathi are also present on either side.The Maha Pratyangira Homam is a powerful remedy for all problems at the workplace in particular. If you are suffering from obstacles, jealousies and an unfavourable environment at the workplace, perform this homam to invoke the protection and blessings of Maha Pratyangira Devi. Goddess Prathyangara Devi is worshipped for curing all illness and to prevent major accidents and any health issues caused due to poisoning. It is also believed worshipping this Goddess helps in the removal of all mental blocks. This homam will be performed on New Moon Day and Ashtami day for getting powerful energy.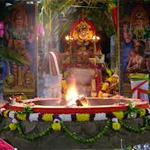 Pratyangira Devi, prime among the Parivaramoorthies (accompanying goddesses) of Raja Rajeswari, identified as Parasakthi and dweller in Sri Chakra, emanated from the Third Holy eye of Mahadeva, possessing the most beautiful feminine body but with the face of lioness. Pratyangira surpasses Bhadrakali Devi in fury; but for those who approach Her for protection, She is a veritable mother. Pratyangira who devours demons, ghosts and all evil spirits will root out the pernicious effects of all evil deeds - deliberate or otherwise - perpetrated by one's enemies thereby ensuring protection and fearless existence.
Mahapratyangira Homam will ensure lifelong protection from the influence of evil spirits. The devotees are advised to participate in Mahapratyangira Homam in order to get rid of the dangers caused by enemy action and to gain success in all their ventures.
This Fire Rituals will be performed at Authorized Temple Only. You can attend this human (fire Rituals) directly at temple upon our confirmation and receive the energy and blessing directly from Almighty.
If Fire Rituals is performed as Proxy then You will receive the prasad and CD for the ordered fire rituals.